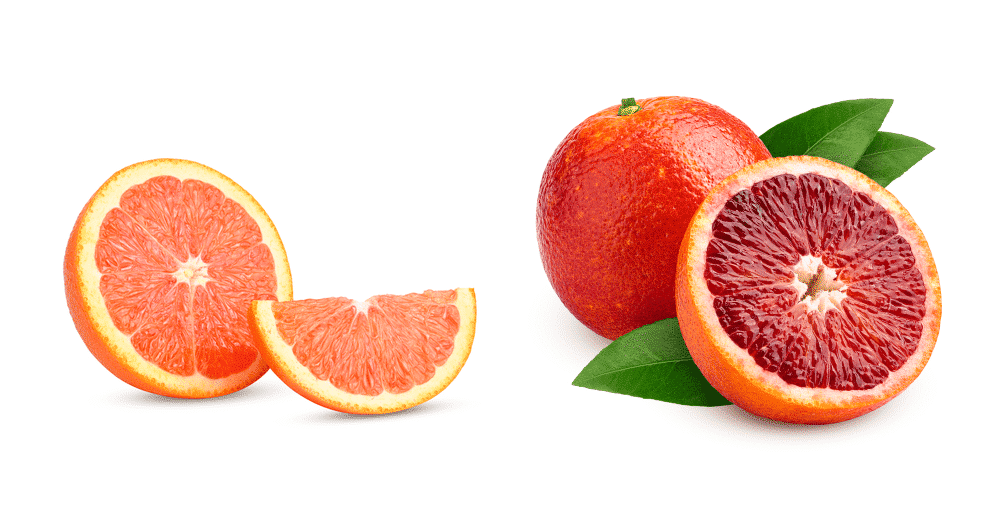 Oranges have always been the favorite citrus fruit for their sweet and slightly sour flavor. However, there is not only one type of orange out there, which is why we are talking about cara cara vs. blood oranges. In this article, we are sharing the differences between these two types of oranges!
Cara Cara vs Blood Oranges
Cara Cara
To begin with, cara cara are also known as red-fleshed navel oranges. These oranges originate from Valencia and were first identified in 1976. These are medium-sized navels known for a sweet flavor. These navels are seedless and have low acid content. It has a minimum to low pith, which makes it quick and easy to separate from the ring. Cara cara has a complex flavor as compared to other varieties of the navel.
Cara cara has undertones of rose petal, cherry, and blackberry. This fruit comes around in October but is available from November to April in California. It has yellow and orange hues in the skin, but the internal flesh has light flesh with pinkish-red color. For the most part, the flesh looks like grapefruit. Cara cara has fruity tones and a sweet yet citrus flavor.
Cara cara has amazing nutrients in it, which makes it a perfectly healthy snack. As far as the nutrients are concerned, it has fiber, carbs, antioxidants, vitamin C, and vitamin A. In addition, it has a generous amount of folate. The color of the flesh is the result of lycopene. The consumption of cara cara helps improve heart health and improve macular degeneration.
Cara cara can be used for making juice, but you can also slice the flesh for eating it as a snack (like we eat oranges). Some people also add them to smoothies to make perfect smoothies. Cara cara makes a perfect citrus curd and can add a pop of color and flavor to dressings and salads. In some cases, it is known as pink oranges.
To illustrate, cara cara is the combination of grapefruit and blood oranges, but the flavor is pretty distinct. It wouldn't be wrong to say that cara cara has a sweet flavor with a slight spiciness. It's safe to say that cara cara has the combined flavor of cranberries, raspberries, and strawberries. These navels are perfect for healthy snacking and can be used in a variety of recipes since there are no seeds.
Cara cara can add the perfect flavor to salsa, fruit salads, greens, and fish marinade. If you are a fan of cocktails, it's a perfect addition to cocktails and complements rose wine. In addition, you can dip the cara cara slices in chocolate fondue to make a delicious yet healthy snack.
Blood Oranges
As the name suggests, these oranges have a dark red color. These oranges have lesser acidity with a much sweeter flavor. We don't mind saying that it has strawberry and raspberry flavor undertones. Blood oranges are readily available in winter and spring. In particular, they come out around December and will be available till April.
For the most part, blood oranges are grown in Spain, Italy, and California. The most intriguing part is that these oranges won't ripe once they are plucked from the tree. That being said, it won't establish intense flavor or get sweeter once they are harvested. The best thing about blood oranges is that they can be stored for a longer time.
Even more, there are various varieties of blood oranges available in the market, such as moro, tarocco, and sanguinello. Moro is famous in the US, tarocco originates from Italy, and sanguinello has its roots in Spain. The blood oranges are extremely juicy and can get sweeter if they ripe for longer time periods. These oranges have thick peels that reduce the chances of rotting and molding.
If you make them into zest, they should be frozen to ensure it doesn't lose the flavor. On the other hand, the blood orange juice can be stored for a few days in a sealed jar (the juice must be refrigerated). As far as nutrition is concerned, it's a great source of fiber, protein, calcium, carbohydrates, potassium, vitamin C, vitamin A, and fat.
In particular, the dark orange's peel is rich in antioxidants, so you can make full-of-nutrition zest. Some companies often use blood oranges for making oils as they are rich in aroma. Even more, it delivers enhanced flavor when added to the cooking dishes and cocktails.