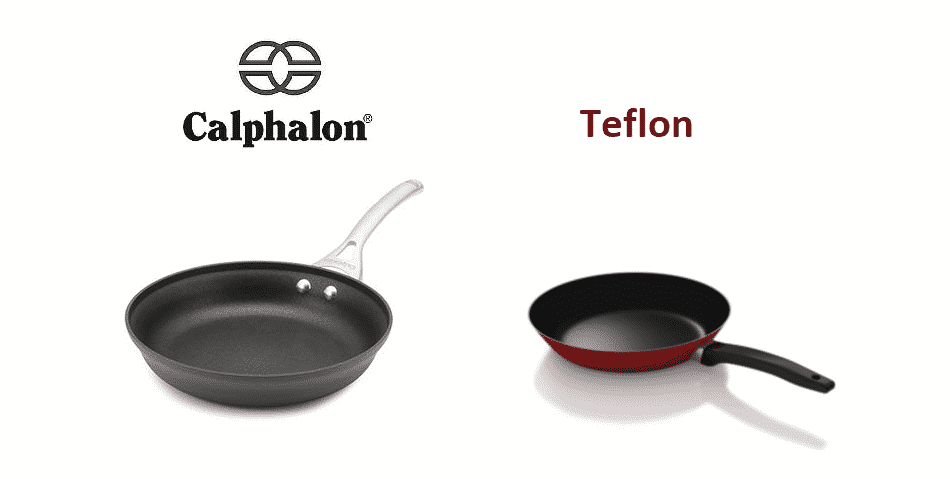 Both Calphalon and Teflon are very famous for making durable non-stick and stainless steel cookware. They offer you high-performing products that are specifically built to last. Moreover, both of these brands are significantly less expensive as compared to any other premium brand.
Calphalon
Calphalon is a company that began manufacturing cookware products in Ohio in 1963. The initial name of the company was a commercial aluminium cookware company. However, the name later changed to Calphalon in 1968. They are still known for being the first cookware manufacturing companies that are using aluminium for a process called hard anodizing.
The process of anodization makes the exterior layer of the aluminium in any cookware to become more thick and durable. After anodization, the product is less likely to corrode and becomes extremely scratch resistant. All the Calphalon only started to hard-anodize aluminium cookware products but they later started to use non-stick coating in their cookware from about the year 1992.
The company launched its 1st stainless steel product in 2001. Now the Calphalon has become one of the brands that are considered middle to high end both. However, it is also a rival for premium brands because it offers cheaper products. Calphalon also manufactures a few other kitchen products that include bakeware, different appliances and cutlery.
Teflon
A French engineer Mark Gregoire in 1954 once tried to Bond PTFE that is Teflon to a cookware's surface. Until then PTFE was only used for different kinds of ceiling Pipe and coating walls. This was a successful experiment and after then it has been commonly used for creating non-stick cookware.
After two years of this invention, Mark Gregoire launched a company named Tefal. The name was derived from the formula which involved Teflon and Aluminium. This company has been making innovative products since the very start and they have never failed in bringing up a new product.
They have also brought Waffle irons and different kinds of Grills in the market. Now the company has become very famous for cookware production, and it is now making 50 million kitchen products per year.
Calphalon vs Teflon
Non-stick collection
There is a difference in the nonstick collection that Teflon and Calphalon have to offer. Teflon offers 11 nonstick collections. However, Calphalon offers only 9 nonstick collections. However, it is proven that Calphalon products are made with hard-anodized aluminium which makes it more durable and the exterior is thicker with better sturdiness.
Stainless-Steel collection
Calphalon offers six stainless steel collections. However, Teflon only offers 5 stainless steel connections.
Hard-Anodization
Calphalon comes with hard-anodized aluminium which is non-stick as well. However, Teflon only comes with standard aluminium with non-stick coating.
Construction layer
Calphalon comes with multi-ply construction which is more durable. However, Teflon comes with single-ply construction. Because of Calphalon anodization, the construction layer and the outer layer is more durable and thick which makes it very long-lasting.
Oven-Safe range
Calphalon is oven safe for up to 500 degrees. However, Teflon is only safe for up to 400 degrees. Teflon is oven safe for 500 degrees if it is a Stainless product.
Price
Calphalon is double the price of Teflon, However, is significantly less expensive. There is not a big difference in both of these company's products however there is a huge price difference between Calphalon and Teflon.
Similarities
Dishwasher safe
Both of the companies Calphalon and Teflon offer products that are dishwasher safe and can be washed easily without manual washing.
Durability
Both of the brands do not have very durable products and the customers of both the brands complain about durability. Teflon products have non-stick cookware which has their coating scratched when the exterior peels off. However, the customers of Calphalon complain that their cookware warps easily.
Both the companies are significant with their offered features and can offer you a huge variety of cookware however with the help of an above guide you can decide which brand you want to go to when purchasing long-lasting cookware.