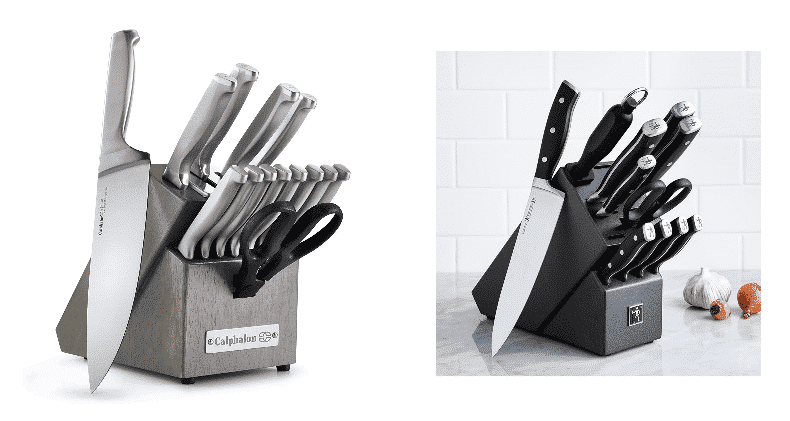 What is Calphalon?
Calphalon is an international and very popular brand that deals with the manufacturing of kitchen appliances. Their product range is relatively vast and features all sorts of different items, which is one of the main reasons behind their popularity. There are multiple different reasons behind the success and fame of Calphalon, but their knives are particularly responsible for this. Calphalon features some of the best knife sets that you'll be able to find. The brand is primarily popular thanks to its knives, which are popular all across the world.
What is Henckels?
Much like Calphalon, Henckels is another brand that manufactures and retails kitchen appliances. While it must be said that their product range isn't as vast, their knife sets are also great. In fact, Henckels is popular for its manufacturing for some of the best knife sets and overall cutlery in the market. Their knives are great from most aspects, which means that their fame is well deserved. Much like Calphalon, they are also a reliable option. This is both a good and a bad thing, as it leaves you with more options to choose from.
Calphalon Knives vs Henckels Knives: Which is Better?
Both Calphalon and Henckels provide some great options for you to choose from. This obviously makes the decision harder for you, as there are many good choices and you just can't settle on one. However, the decision is much easier when you know the strengths and weaknesses of both brands and their cutlery. That being said, here's a detailed comparison between the knife sets from Calphalon and Henckels which can help you decide between the two.
Sharpness and Effectiveness
The first thing that anybody notices about a knife is just how sharp and effective it is. This is a department in which Henckels excels in. The popular German brand has been making cutlery for almost three centuries now and their knives are ideally sharp for most. Most of their sets are also able to cut through most things with relative ease and are effective additions to most kitchens.
Regardless of this, it must be said that Calphalon has the upper hand in this department. Their knives are popular for staying sharp for as long as you could think of. This is all thanks to their great SharpIN technology, which is exclusively found in some of their knife sets. This technology uses both the knife and its holder in order to keep it sharp for as long as possible. The holder is specifically designed to sharpen the knife each and every time it is pulled out. While this is a simple and straightforward design, it is mainly original and highly effective. Because of this, Calphalon has an advantage over most other cutlery brands when it comes to the sharpness of their knives.
Design and Aesthetic
While the appearance of knives doesn't matter to some people, it is still a big factor. Most people tend to prefer items that are visually appealing, as the appearance of an item is one of the first things you notice about it. That being said, Henckels definitely has some of the simplest yet beautiful knife sets that you can add to your kitchen. The brand's experience at making cutlery allows them to come up with great designs for their knife sets which are aesthetically pleasing in the eyes of most.
Calphalon also has some sets that certainly stand out from the rest. Most of their cutlery is completely simple yet aesthetically pleasing, and the same can be said for their knives. However, it must be said that Henckels still has the edge in this department. You'll be able to tell the difference in the beauty of both the brand's designs and aesthetics when you compare them in front of your eyes.
Affordability
At last comes affordability, which is a pretty simple yet decisive factor. It must be said that Calphalon is superior over Henckels in this department. This is due to the fact that it is relatively newer as compared to Henckels and not as popular when it comes to knives. Even though it comes down to each specific knife set, it must be said that Calphalon has the more affordable options.