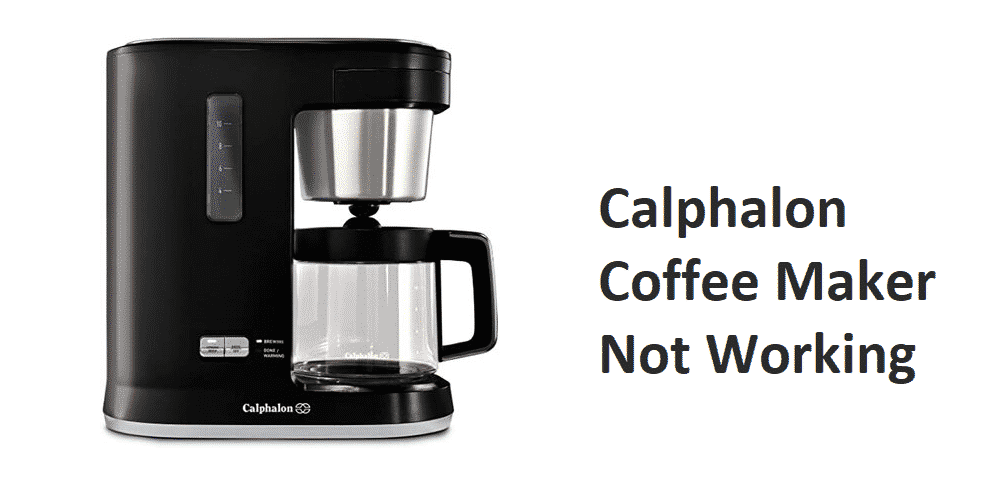 Coffee is no doubt an international beverage. Most of the people's mornings rely on it. They activate their sleepy minds with a mugful of coffee. Learning that your coffee maker isn't suddenly working anymore has to be the most disappointing thing in the morning for coffee lovers. Calphalon Coffee Maker is known for its exceptional quality. Alone, Calphalon is a trusted coffee making machines company. However, their coffee makers can still stop working. You don't have to give up on your Calphalon Coffee Maker when you can simply fix the malfunctioning.
In this post, we have put together all the possible troubleshooting solutions for your under-functioning Calphalon Coffee Maker. Stay with us!
How Do You Troubleshoot Calphalon Coffee Maker Not Working?
There is no need to stay bothered for your non-functional Calphalon Coffee Maker. Try these troubleshooting fixes and you are good to go with your coffee maker.
Solution 1: Inspect Damaged Power Outlet
If your Calphalon Coffee Maker dramatically stops working, then the first thing you are supposed to do is inspect the power outlet. Remove your coffee maker's cord and connect another device. Have your power outlet fixed by a repairman if the other device doesn't work as well.
Solution 2: Check Power Cord
Your machine's power cord might be the issue if your power outlet is fine. Check for the damage and have it replaced with a new one if it has torn down.
Solution 3: Check If The Water Reservoir Is Adequately Filled
If both of your power outlets and the power cord are working fine then, it is time to review the quantity of water you are dumping into the water reservoir. Most probably your coffee maker won't run if the water content is too less. Make sure to add an adequate amount of water to the reservoir and you are good to go.
Solution 4: Remove The Mineral Debris
One of the most common reasons for your coffee machine to not brew the coffee at all is the bulk of mineral debris in the coffee tubes. Try to unclog the tubes from unwanted residues with the soft floss. You may also use wire to help drop the stuck residue.
Solution 5: Inspect Heating Element
After removing the mineral debris from the hot water tube, you have to inspect the working of the heating element. The heating element can cost you half the price of the coffee maker. Of your Calphalon Coffee Maker's heating element is damaged and your machine isn't terribly expensive or new. Then seriously try investing in a new coffee maker.
Solution 6: Unclog By Water And Vinegar Solution
Use water and vinegar solution to unclog and thoroughly cleanse your Calphalon Coffee Maker. Brew the solution and then rinse promptly.
Here is one tip. Make sure to keep your coffee maker clean. Wash the detachable parts thoroughly after each use if you want to prolong its life and prevent yourself from the working issues.
The above troubleshooting solutions are everything you can do to fix your Calphalon Coffee Maker not working.