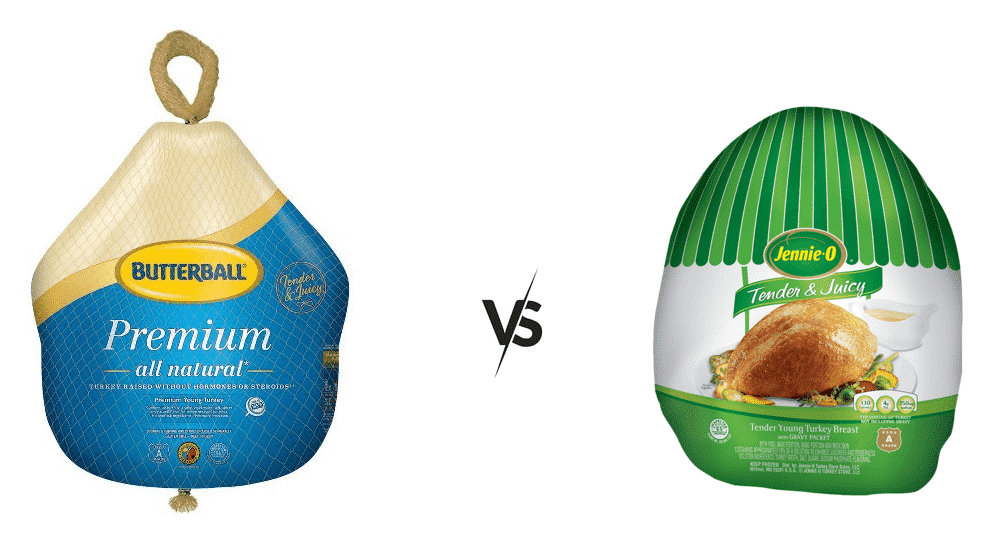 Butterball and Jennie o turkey are two different types of Turkeys. Most well know chefs would say it doesn't matter what brand you're using. One should be well equipped with the art of cooking. While a lot of people disagree and believe that the brand and breed of Turkey do affect the taste. When it comes to cooking a Turkey, it is not only the taste that matters but also the softness and the texture. Most importantly it is the measure of how Juicy a Turkey is once it is out of the oven.
There are important things to keep in mind when cooking a Turkey than just the brand. Firstly, be very critical of the turkey size, whether you're ordering a Butterball Turkey or a Jennie O Turkey. Anything between 12-15 pounds sounds alright. Avoid ordering a large turkey, it gets difficult to manage. Not unless you're an expert with a big family and an even bigger heart.
Then comes the thawing part. You'll have to give a lot of time to the turkey before you start cooking if it's frozen. Leaving it on the counter is a great option. Other times you can just unwrap it and place it in the refrigerator.
Let's discuss Butterball vs Jennie O turkey features to better under the differences.
Butterball vs Jennie O Turkey
Butterball Turkey
Cooking a Butterball Turkey is easy and time-saving. The company believes the turkeys are juicy and tender because of pre-brining. This step is to assist you in cooking as you don't have to spend a ton of time on preparation.
The best thing about Butterball is the instructions. Their website is full of recipes and "How to" articles. So, you don't have to experiment, rather follow their instructions. Temperature control is an essential part of cooking turkeys. Hence, Butterball has a special emphasis on the temperature in the guides.
Furthermore, to help you avoid unnecessary mess, the packaging is easy to remove. You have to pull apart the tabs and the turkey is out.
The turkey comes with a cooking bag of its own. Be careful with the bag. At times the bag sticks to the turkey. The turkey comes marinated in juices inside the bag, managing that can be tricky. In short, unbagging the turkey can be a bit of a hassle. To avoid this from happening, follow all the instructions properly. The Butterball Turkey does not take a lot of time in the oven. This Turkey is soft and moister when it comes to Jennie O Turkey which tends to get dry quickly.
You may get confused while cooking whether your Butterball Turkey is done or not. The company itself suggests that you insert a thermometer close to the thigh bone. It is done when the temperature is 180 degrees Fahrenheit and 170 Fahrenheit for the breast.
If you want to stuff the Butterball Turkey, only use prepared items in it. The temperature in the stuffing should be 165 Fahrenheit.
If you are someone who's considered about treatment with animals, don't panic. Butterball has certification from American Humane Association. Butterball Turkey along with its winner taste has a lesser price. So why go heavy on the pocket?
Jennie O Turkey
Hormel foods have produced the best quality turkeys since 1940. Most of the Turkeys are raised in Wisconsin. Jennie like Butterball has many guides available on their website. It's advisable to get advice from an expert than to experiment on your own.
The Jennie O Turkey is a good, mess-free option. Jennie O Turkey is the answer if you're in the mood for some exhausting Kitchen Labor. Here's a rule of thumb you're not allowed to forget. When cooking a Jennie O Turkey, never brine it. Brining is the process of using salt to marinate turkey. A flavorful Turkey is always desirable but remembers, no one likes too much salt.
Jennie O Turkey needs a minimum of 2 hours to defrost. Don't rush into the cooking process. Give your Turkey enough time on the counter before you put your cooking gloves on.
Some people are concerned about the safety of Jennie O Turkey. However, if you follow all the instructions provided by them, you will save yourself from Salmonella.
You can check the doneness of Turkey by placing a thermometer in the thigh bone. The temperature should be 180 degrees Fahrenheit when you roast Turkey.
You can either follow the recipe on the packaging or be creative on your own. When it comes to customer reviews, the seasoning that comes with Jennie O Turkey isn't the best. You can always try making your seasoning. Be generous with herbs like parsley, oregano, and basil. Splash it in some olive oil, pepper, a little chili and you're good to go.
Cooking with Jennie O Turkey, most people expect a restaurant-style turkey. That, is usually, not possible. So, before you get disheartened at your cooking skills, know it's the boneless frozen turkey you're using, not you.
Which One's Better?
Now let's say, you're part of Team A, which believes that the brand doesn't matter. Cooking a perfect turkey takes more skill than hard work. Brining is still a relatively new concept for amateur chefs. All you have to do is brine your Turkey with some salt and leave it overnight. This will give you an idea of, soft, juicy finishing. Making you forget what turkey brand you used in the first place.
What if you're part of Team B, which believes, that the brand of turkey plays a crucial role in your recipe. Be careful regarding what temperature you cook your Turkey. For Butterball Turkey, after preheating the oven, 350°F is a safe temperature. Butterball Turkey needs about 15-18 minutes in the oven. While the Jennie o turkey can be cooked at a temperature as low as 250°F but for a minimin of 30 minutes.
Here's a general hack for both teams. Before baking try immersing your Turkey in Turkey broth. This will give an amazing aroma and a Turkey like never before!