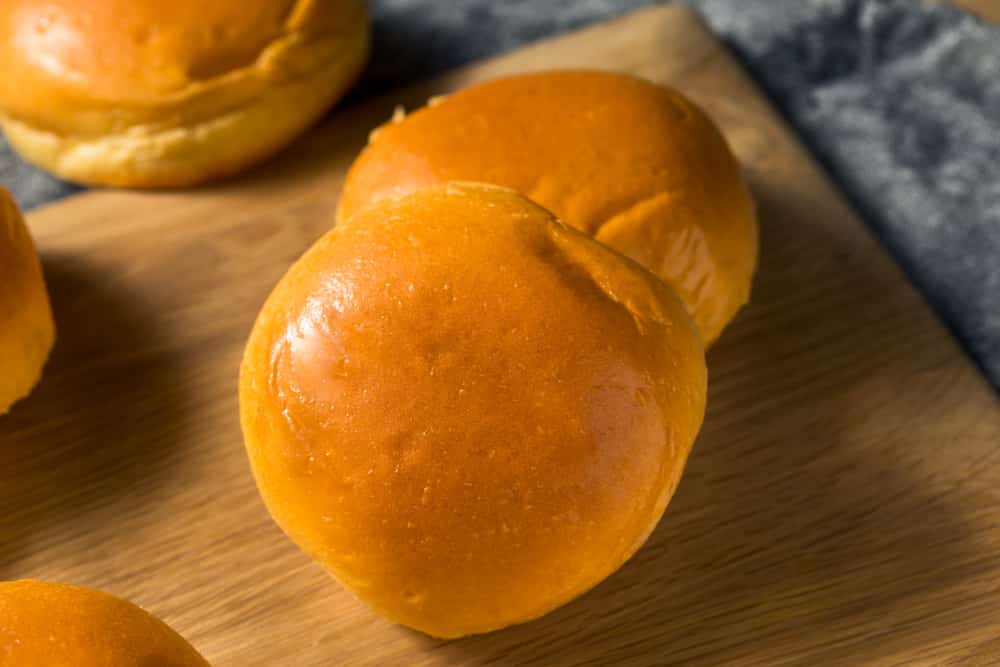 Buns are one of the common addition to the dinner tables, but many people serve them in the breakfast spreads, depending on the location. However, there are different types of buns out there, but brioche bun vs. regular bun is a common comparison, and we are here to share all the differences you need to keep in mind.
Brioche Bun vs Regular Bun
Brioche Buns
The brioche bun is bread with its French origin and is known for its higher butter and egg content which results in tender and rich crumbs. The brioche bun is defined as the slightly puffy and lightweight bread, given the higher mixture of eggs and butter. These buns boast a dark, flaky, and golden crust, and the crust is often enhanced with egg wash, particularly after the proofing phase. It's made with the same cooking steps as bread, but it boasts a richer texture, which makes it an addition to the pastry range.
This is because these buns are made with flour dough, along with butter and eggs, but a liquid is also used. In the majority of cases, milk is used as a liquid, but some people also use cream, water, and brandy, while sugar adds a slightly sweet flavor. These buns are also made with chocolate chips or fruit, and they can also be served on their own. Brioche buns are often used as a base for desserts and have various variations available with different toppings and fillings.
It wouldn't be wrong to say that brioche bun is bread, but it's just better. This is because it's a rich bread with a sweet and soft texture. The best thing about brioche bun is that you can use it in savory as well as sweet recipes. The special ingredients of brioche buns are the reason it has an amazing flavor and soft texture. In addition, it can be used for different recipes and occasions, such as desserts, snack time, dinner, lunch, and breakfast.
In the majority of cases, brioche buns are used to make French toast and are sprinkled with fresh fruits, icing sugar, and syrup. Even more, these buns can be used for making yummy burgers, especially the beef and veggie burger with lettuce and onion rings. The best thing about brioche buns is that they can be frozen, but you've to use the correct defrosting method. However, to bring out the flavor, the buns have to be toasted, and it actually gets toasted quicker.
Regular Buns
The regular buns are just simple buns, and they are actually pretty soft. In the majority of cases, the regular buns have a soft nature, which is why they are used for making thin burgers. In fact, some manufacturers use mashed potatoes in the mixture to bring out the softness, but mashed potatoes are optional. The regular buns have the capacity of absorbing the flavor of burger patties and other ingredients without becoming soggy.
The regular buns are the size of your hands and boast the dome shape. These buns are known for the flat bottom, are sliced into two, and can be packed with a variety of ingredients to make burgers. These buns are made by mixing flour, eggs, sugar, butter, and yeast. While it can be used as sweet bread, there is a whole variety of regular buns made from whole wheat to use for savory recipes. Still, there are various shapes available.
This is because the buns can be round and short, but they are also made in skinny and long-form. These regular buns are mass producers, and various manufacturers freeze them to ensure proper delivery. For the most part, the buns tend to be thin and have a uniform thickness (the thickness varies). The baked buns are served as party food and picnic food.
As far as the making is concerned, the regular buns are available in multigrain as well as whole wheat form. It's needless to say that multigrain buns are healthcare and can be easily found at grocery stores. On the other hand, the whole wheat buns are also pretty healthy. Also, if you have to purchase the regular buns, don't forget to read the manufacturing and expiration date to ensure you are purchasing the regular buns.