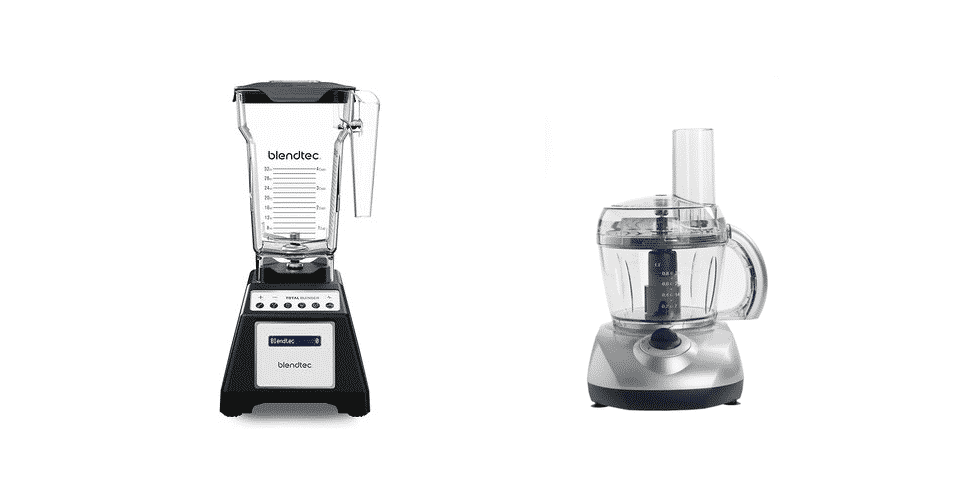 Every kitchen is loaded with a variety of appliances to ease the cooking experience and optimize pre-cooking preparations. Some of these appliances include blenders and food processors. Generally, they tend to offer similar functionalities but Blendtec vs. food processor is a common comparison. So, let's take closer insights into these products and how they are different from each other!
Blendtec vs Food Processor
Blendtec
This is basically a brand known for its wide range of blenders. Their blenders are known for affordable price factors without compromising on durability and functionality. When it comes down to the Blendtec brand, they are extremely popular and have a wide range of blenders available. Their blenders are designed with high-end functionality and advanced features. They keep updating the blenders to enhance the overall performance.
These blenders are compact and classic which complements your kitchen (and countertop, of course). The blenders are integrated with a high-strength and powerful motor which makes them suitable for pulverizing everything (yes, even the hot soups). There are more than ten speeds available that allow you to blend different foods and edibles. Blendtec blenders also have six programmed settings, so you can have access to predesigned blending functions.
The blenders are designed with a top-notch container design that can contain different food items. What we love about these blenders is that they come with an LCD-based timer display, so you can even check the timer in low light. The best thing about these blenders is that the containers can be washed in the dishwasher and have the self-cleaning feature which means you don't need to struggle with dirt and debris. On top of everything, the products are BPA-free, so there won't be any contaminants in food.
The blenders come with an eight-year warranty which makes them pretty reliable and durable. On the other hand, there can be some improvements in the blenders. For instance, the blenders only have two buttons for speed adjustment and can be noisy, hence the absence of comfort. The jars are pretty durable but they cannot be used for thick blends and some of the designs seem to be outdated. The total blenders also have the capacity to crush down ice cubes within seconds. The blenders are integrated with blunt blades which means they can blend literally everything.
Food Processor
The blenders and food processors are often confused but food processors are completely different and have unique features that aren't available in blenders. The food processors are designed with razor-sharp and ridged blades which makes them durable and they can cut through anything. However, the motor strength is pretty limited in food processors which makes them weak. It's safe to say that food processors are multi-use tools and offers various blending and cutting features.
The food processors are extremely efficient and can even blend seeds and nuts (yes, the hard foods). It wouldn't be wrong to say that food processors can perform the function of chef knives with some settings, so you can pulverize garlic and onions without any issue. However, the food processor is not a recommended choice for liquid or loose foods, such as smoothies, soups, and cocktails. In addition, the food processors have small bowls and they cannot be overfilled, so you've to make small batches.
For the most part, food processors are suitable for dishes that are textured and have chunks, such as pesto. In addition, it's perfect for blending hard pine nuts, tenderize the basil, and pulverize the garlic. As for the functions, the food processors can complete different functions, such as slicing, dicing, chopping, and blending; these functions will help prepare the meals quickly. All in all, these food processors have a variety of functions, which makes them better than regular blenders.
The food processors are designed with a motor on the base unit which powers the unit and completes the functions. In addition, the food processors have transparent plastic bowls that are fitted around the shaft. Also, these shafts are connected with the cutting blades which operate within the bowl and cut different ingredients. In addition, there are different blade attachments for slicing and shredding. Not to forget, the lid is designed with a feed tube to feed ingredients onto the processor's bowl. As for safety, all food processors are safe because the motor doesn't operate if the bowl isn't attached properly.