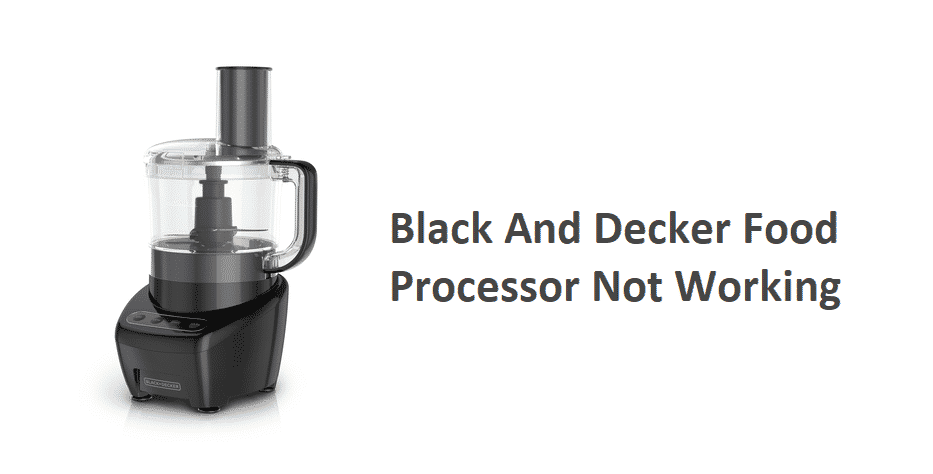 A food processor is the backbone of the kitchen because of its multitasking feature. This appliance is an all-in-one appliance that can replace different other types of appliances because of its variety of features. However, if it stops working, then it can be a concern, and to resolve that, you must keep reading.
Black and Decker Food Processor
A Black and Decker food processor allows you to chop, shred, and slice your food with this magical gadget. It has a set-and-go type of assembly which is very easy to set. Black and Decker food processors come along with stainless steel blades which is why they are very durable and rust-free. This food processor is also dishwasher safe and can be washed easily.
The included accessories that come along with your Black and Decker food processor are slicing disc, shredding disc, and chopping blade. It comes with the push-button type of easy control for setting different speeds. This product comes with a 2-year warranty and the work Black and Decker food processor has an 8 cups capacity.
Black And Decker Food Processor Not Working
1) Power supply:
In most cases, when a food processor is not working, the major cause is either a bad switchboard or inconsistent power supply, however, sometimes damaged cords also cause a shortage of power supply.
First of all, you must check that your Black and Decker food processor is connected to a continuous power supply. Check the switchboard is functional by trying the other board.
If your food processor still doesn't start, then check the wires to make sure they are intact, if not, then replace the wires of your appliance.
2) Overheating:
Your Black and Decker food processor heats up when it's used continuously. To make it work without getting overheated, you must take small pauses to let it restore its temperature. Excessive overheating causes the appliance to lose its motor quality some times.
First of all, rethink: did your food processor stop in the middle of processing?
If yes, then it is definitely because of overheating as there's an automatic turn-off switch present in your Black and Decker food processor that shuts it off in case of excessive heating up.
In this case, allow it to cool down a bit, and do not start it for some time until it completely restores the temperature.
3) Safety switch:
Safety switch makes your food processor not start at all. However, in case of a stuck safety-switch, your food processor will sense to not start.
Make sure that you locate the safety switch properly. Once you have located check if it's activated.
If the safety switch is activated, then there must be something that's coming in its way and stopping it from closing.
Remove the object causing hindrance and start the Black and Decker food processor again.
Hopefully, this blog helped you in resolving your problem related to the black and decker food processor not working properly.