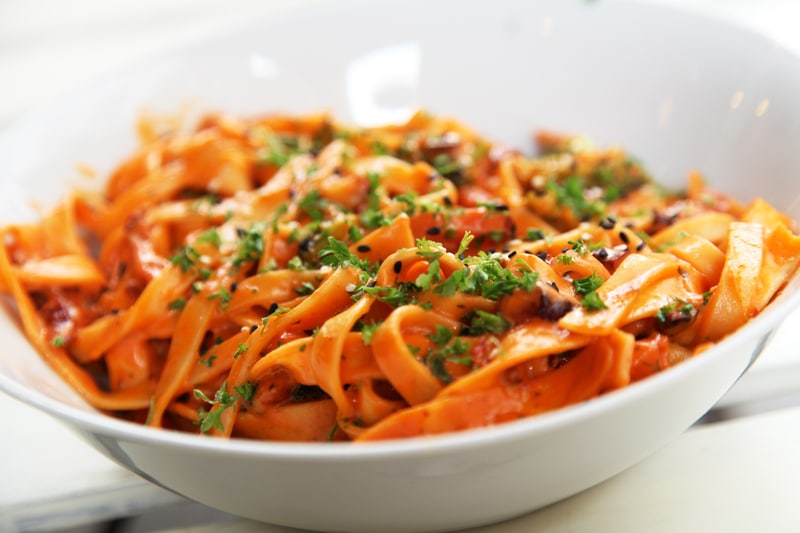 Pasta is an incredible base for lunch salads and dinner main course. The best thing about pasta is that it's available in various shapes, which makes it suitable to prepare different dishes. For instance, noodles can be used for Italian recipes while shorter varieties are suitable for salads.
Best Seasoning For Pasta
Irrespective of which pasta variety you are using, you have to use some spices and the best seasonings to spruce up the flavor because pasta doesn't have any flavor of its own. So, let's check out some of the most delicious seasonings if you want to enjoy pasta!
Keya Pasta Seasoning
The first option is Keya Pasta Seasoning, which is available in bottled form, which makes it easy to add to the dish or store it. The herbs and spices used in this seasoning are grown organically and are dried in the freezer to retain the flavor and aroma.
There are no MSGs, fillers, or additives in the seasoning, which makes it a healthy choice. It has a blend of herbs that add authentic Italian flavor to the pasta. It can be used with pasta carbonara, cheese pasta, and spaghetti. It's extremely aromatic and adds a rich earthy flavor to the pasta.
It comes in an airtight that helps preserve the flavor by protecting the seasoning from moisture. As far as the ingredients are concerned, there is oregano, basil, garlic, salt, thyme, and rosemary in the seasoning. In addition, it has an anti-caking agent, which helps extend the shelf life.
Dominos Oregano Seasoning
The Dominos Oregano Seasoning is a perfect choice for pasta and can be used for pizza as well. It is usually provided by Dominos in form of sachets (they provide it with pizza). So, if you have some leftover sachets from Dominos, you can add them to the pasta.
In addition to pasta and pizza, this seasoning can be used to flavor soups, noodles, and sandwiches. On the other hand, if you don't have the seasoning, you can make your own by mixing salt, black pepper, dried basil leaves, oregano, rosemary, garlic powder, and chili flakes.
You should crush these ingredients in a mortar and pestle and store the blend in an airtight container. However, make sure that the motor and pestle is fully dried. This seasoning can be stored in the refrigerator for over two months.
Italian Pasta Seasoning By The Salt & Spice Factory
Made with the combination of red chili, garlic, sea salt, and green parsley, it's one of the best seasonings to add Italian flavors to the pasta. It can be sprinkled over the garlic bread and pizza to add authentic flavor. In addition, it's a kosher-certified seasoning, making it suitable for everyone.
Orika Italian Seasoning
This Italian seasoning is available in 40g jars and is available in the form of sachets as well. The jars are designed with a wide mouth, which promises easier application. The seasoning is a blend of dehydrated garlic, oregano, black pepper, basil, red chili, and soy.
It is an aromatic blend that uplifts the flavor of pizza and pasta. The company has an anti-caking agent in the seasoning, which prevents clumping. Also, it has a shelf life of over twelve months, which means it provides value for money!
McCormick Italian Herb Seasoning Mix
This is one of the most delicious seasonings for pasta as it has a balanced flavor. It can be sprinkled over the pasta and pizza or you can mix it with sauce ingredients to add a rich and savory flavor. This mix is prepared with onion, basil, garlic, black pepper, and paprika to add authentic Italian flavor.
The addition of marjoram, red pepper, and basil adds warmth to the dish. It has a shelf life of over two years but makes sure you store it in a refrigerator.
Goya Foods Seasoning With Coriander & Annatto
If you want to make a Latino dish and uplift the flavor, you can use this Goya Foods seasoning. The seasoning is a mix of cumin, coriander, annatto, and garlic, which not only enhances the flavor but the color of the dish as well.
In addition to all these seasonings, you can also use cloves, Tellicherry black pepper, red chiles, and sweet curry powder to flavor your pasta!