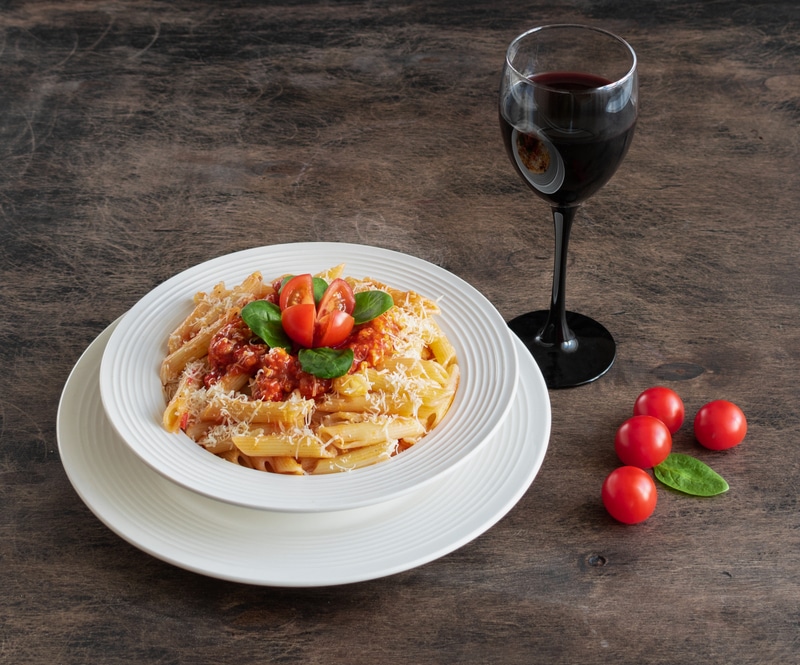 Pasta is one of the most delicious and easy meals. Depending on the shape of pasta and ingredients, pasta can be served as a delicacy. It's a part of Italian cuisine, which means it has to be prepared with the right wine to enjoy the full flavors. So, if you are going to prepare authentic Italian pasta and don't know which wine goes with it, we are sharing the best red wines that you can try!
Best Red Wine For Pasta
Pinot Noir
This wine is known for its rich yet deep earthy flavor tones. It has a deep flavor tone, which makes it suitable for tomato-based pasta recipes, such as hearty tomato sauce with sausages and pasta prepared with marinara sauce and meatballs.
It's a versatile wine as it can be paired with pesto-based pasta as well. The wine is made from red grapes and has a light or medium body. This is a fruit-forward option and has a lower alcohol level, making it a perfect dinner option. As far as the flavor is concerned, Pinot Noir has spicy and fruity flavors with earthy undertones.
Merlot
The second red wine that you can try is the Merlot. It's a smooth and fruity wine and you don't have to worry about the bitter undertones either. The sweet flavor of this red wine goes well with rich lasagna and tomato-based pasta. It has an extremely sensual and soft texture as it's made from red-skinned grapes.
However, you must remember that this is a full-bodied wine and has a higher alcohol content (it goes over 14%), so drink it in moderation. On the other hand, it's still easy to drink, given the low tannin levels. In case you are concerned about the flavor, it has plum, black cherry, raspberry, and blackberry flavors with hints of mocha and vanilla.
Reisling
This is a good choice for people who need a lighter red wine – it still goes well with the main meal. It's recommended that you drink Reisling with mushroom sauce-based pasta because it helps brings out the peachy and pear flavor tones of the wine.
In addition, it has floral undertones, which makes it a promising choice for pasta made with puttanesca sauce. The experts recommend serving this wine with rich, creamy, and warm pasta, especially if there is chicken or pork in the pasta. All in all, it's made from aromatic grape, which results in a pronounced aroma.
Cabernet Sauvignon
This is one of the most recognized red wines that's made from red grapes and it's actually a cross of Sauvignon Blanc and Cabernet Franc. This is actually an extremely versatile wine that goes well with pasta as well as other dishes. For the most part, it has a warm and spicy flavor with cedar, coffee, vanilla, and black currant undertones. However, some varieties of this wine also have a robust fruity undertone.
In fact, it's a high-tannin wine, which results in a bit of bitterness – the bitterness makes it suitable to be served with tangy tomato sauce. In addition to Bolognese and marinara sauce, you can serve it with pasta made from creamy tomato sauce as well. This is actually a full-bodies wine and promises the thickest and richest sips that you will ever enjoy.
Chianti
Chianti wine is a unique red blend that's native to Tuscany, Italy, and it's prepared from Sangiovese grapes. In fact, it's a food-friendly red wine, so you can serve it with a variety of Italian recipes, including pasta. It has a moderate tannin level and offers an array of flavors, ranging from tobacco to cherry and leaves to mushrooms. While it can be served with pasta, you can also add it to the red sauce to add flavor.
Zinfandel
This is a deep red wine that's known for its high tannin level. It has a perfect balance of bitterness and acidity, which goes well with Italian pasta, particularly because there are spicy undertones. It's recommended that you serve it with tomato-based pasta but can be served with creamy pasta as well. The wine is made from black-skinned grapes, which results in a sweet and floral yet dry flavor.
So, which of these red wines will you choose?