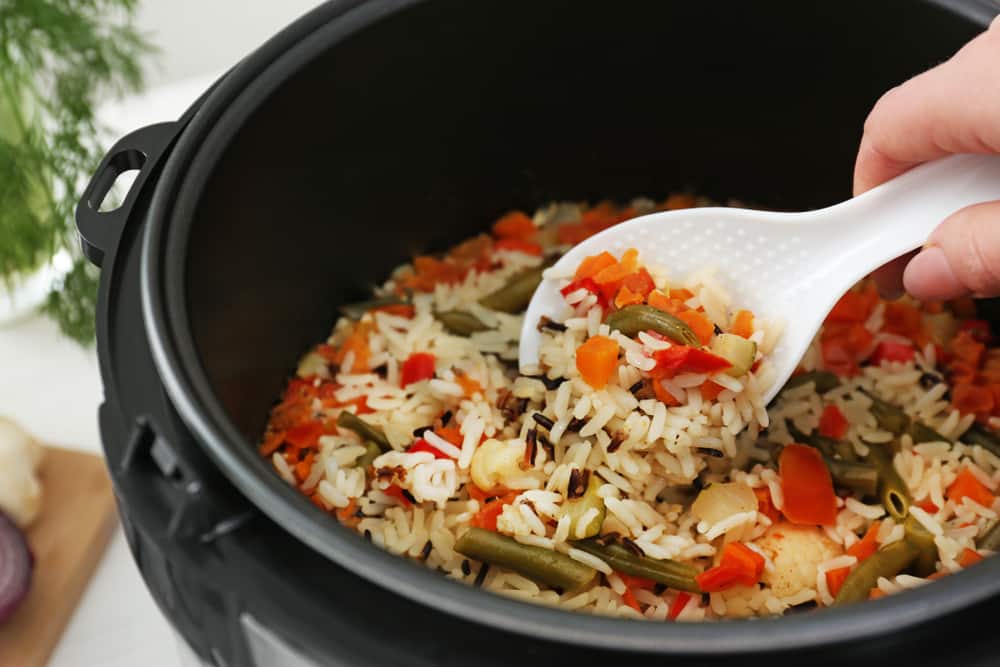 Even though pressure cookers are usually ignored, they are one of the most essential kitchen tools. The best thing about them is that they save you a lot of time by getting the job done in half the time. Pressure cookers are an ideal kitchen helper for people who are always short on time or those who decide what to cook at the last minute.
However, even though pressure cookers are greatly increasing in popularity, actually starting to cook in a pressure cooker is an extremely overwhelming process for beginners.
It can take a person a long time to learn how to operate it and what techniques would work with what sort of meals. You also need recipes. But, most pressure cookers are not very helpful in the instruction department. Therefore, users are not able to get the desired results.
That is exactly where the cookbooks come in, if you can find a good cookbook, you can achieve an optimal result with it. You can get all the instructions and perfect recipes. Even if you have been using it for a while, you can find some handy tips and tricks that could help you up to your game.
What are the Best Pressure Cooker Cookbooks?
In the list that we have put together for you today, have great ideas for both beginners and old users. Most of them have a wide range of recipes and also offer well-suited dietary tips as well.
Another thing about cookbooks is the fact that cooking from a written recipe is much more wholesome than cooking from a video. It feels special and gives the old-school vibe that warms the soul. Plus the pictures that accompany the books are also very entertaining and gives you an idea of what your end product should look like.
But finding a perfect cookbook that checks out in all the departments can be extremely hard, therefore, we have reviewed 20 cookbooks for you to select from!
Best Pressure Cooker Cookbooks: Our Top 20 Picks
Here are some of the best pressure cooker cookbooks:
1. The Instant Pot Electric Pressure Cooker Cookbook: Easy Recipes for Fast & Healthy Meals Paperback – April 6, 2016
This paperback cookbook proves that there is nothing that an instant pot can't do. According to the author Laurel Landorph, there is nothing impossible if we have an instant pot and a wholesome cookbook.
This cookbook is one of the bestselling cookbooks and features more than 100 recipes with pictures. This book can be you're A to Z guide for tips, tricks, recipes and more.
All these recipes are created keeping in mind all dietary restrictions. All these recipes can be tweaked if you are vegan, vegetarian or even if you plan on going gluten-free.
These recipes are also very time-efficient, they would hardly take 20 minutes of prep time and 20 minutes of cook time as well. This cookbook will not disappoint you in any way.
2. Instant Pot Pressure Cooker Cookbook: 500 Everyday Recipes for Beginners and Advanced Users. Try Easy and Healthy Instant Pot Recipes. Paperback – September 20, 2018
Author Jennifer Smith has outdone all the cookbooks of the century with this one cookbook. This cookbook is an all-included cookbook with over 500 recipes so that you don't have to look anywhere else ever.
The recipes are budget-friendly and can be included in a day to day menu without worrying about going all out or anything as such. With this cookbook, you can cook easier, tastier and faster recipes with no issues at all.
These recipes will help the picky eaters, the vegetarians, the gluten-free population and even your little ones. The recipes are detailed and are organized perfectly.
It makes sorting easy and will easily cater to people who have a busy lifestyle. This cookbook also includes helpful tips and tricks to reduce the cooking time and increase the flavor time.
3. The joy of Cooking: 2019 Edition Fully Revised and Updated Hardcover – November 12, 2019
The Instant Pot Duo is available in three different sizes. Those that need a smaller size can opt for the six-quart or they can enjoy the mini version, and those that need a larger size will also have options available for them.
It has seven different ways to prepare food, including a yogurt maker, which is cool. It also has a warmer, steamer, rice cooker, and a few other features.
Customers that pick up one of these get to enjoy the app that comes with it. This app is packed with recipes that most people enjoy so that customers can really have fun with their new purchase.
It does have a stainless steel insert for increased durability. Customers that are not accustomed to cooking with stainless steel might experience a bit of a learning curve. Also, on the downside, the accessories can be on the pricy side.
The steam pressure valve is another learning curve. If it is not properly adjusted, it will not work properly which leads to the food boiling instead of being properly pressure cooked.
This one is rather easy to use. The limited settings mean that those that are technologically inclined will not have a hard time learning to use it, however, there are enough features to make it better than basic models.
4. Indian Instant Pot® Cookbook: Traditional Indian Dishes Made Easy and Fast Paperback – September 19, 2017
This cookbook is your one-stop guide to making all the delicious Indian food of your dreams. The cookbook offers a twist on the classic South Asian cuisine that can be made with the help of an instant pot.
No matter if you are throwing a party or cooking up a wholesome meal at home you can find and make recipes from within this cookbook. This cookbook has 50 authentic recipes such as Marathi karahi, murgh makhani and masala chai.
It has tips on how to tone down the food for your palate and what tips will elevate your food experience to a complete 100. All the recipes are illustrated with colorful pictures to interest you even more!
This book also comes with an expert guide to clean, maintain, and store your electric pot so that you can use it to its full potential.
5. Skinnytaste One and Done: 140 No-Fuss Dinners for Your Instant Pot®, Slow Cooker, Air Fryer, Sheet Pan, Skillet, Dutch Oven, and More: A Cookbook Hardcover – October 9, 2018
Skinnytaste One and done cookbook are what dreams are made off. It is the perfect combination of 140 dinners that you can prepare with your instant pot. Not only that this cookbook is full of recipes that can be done in a slow cooker, air fryer, Sheet pans, dutch oven, and a skillet.
This cookbook is one of the New York Times' numbers one selling cookbook and incorporates healthy, flavorful recipes that would become your family's favorite in no time.
All these recipes can be done in a single pot and are extremely healthy. This cookbook is sure to make your everyday dinners easy and quick. The cookbook is also divided into sections so that it is very easy to find the perfect fit for you. Gina has also added extra instruction to use your everyday pots and pans and make the best out of them.
6. Instant Loss Cookbook: Cook Your Way to a Healthy Weight with 125 Recipes for Your Instant Pot, Pressure Cooker, and More Paperback – October 2, 2018
This cookbook by Brittany Williams is the instant nation bestseller and is the best book if you are looking to shed some pounds. She has lost more than 125 pounds with the recipes right here in this cookbook and she is now ready to spill all her secrets to you. She believes that if she can do it, you can too!
We grow up eating the same processed fast food all our lives. They are easy to grab and do not even cost all that much. However, all that fast food can take a toll on our bodies and then it requires healing from all the damage that we have imposed upon it.
This book here is to help us with the weight loss journey with over 125 illustrated meal recipes, these recipes will explain in detail all the ingredients required and the steps that are followed.
The instant loss cookbook is your complete guide to wholesome weight loss.
7. Instant Pot Pressure Cooker Cookbook: 500 Everyday Recipes for Beginners and Advanced Users. Try Easy and Healthy Instant Pot Recipes Kindle Edition
Jennifer Smith has taken care of all your meals at any time and any day of the week. With 500 plus meals for every day, you are sorted for a very long time. These are listed with separate ingredients and steps so that they are easy to follow and understand. This cookbook will make your lifestyle easy with tastier and quicker meals that have ever come out of your kitchen.
This cookbook includes recipes that the whole family will fall in love with, vegetarian recipes so that there is something in it for everyone. Detailed ingredient list and step by step guide to ensure that your recipe turns out perfect. Much more helpful tips and tricks that will make your dinnertime even more wholesome.
This cookbook is an excellent addition to any kitchen.
8. Ninja Foodi: The Pressure Cooker that Crisps: Complete Cookbook for Beginners: Your Expert Guide to Pressure Cook, Air Fry, Dehydrate, and More (Ninja Foodi Companion) Paperback – September 25, 2018
The Ninja Foodi cookbook is a one of its kind cookbook with all food solutions in one. It has been officially associated and is a companion of a starter guide to your easy to cook everyday meals with Ninja Food.
It delivers a wide range of recipes that will combine the powers of a pressure cooker and an instant pot with the wonders of an air fryer. The recipes are quick and are specially designed with the creative and innovative technology of the Ninja Foodi.
There are many different recipes to suit all your moods. There are wholesome meals including grains, vegetables and even proteins that you can easily cook in one pot. There are 75 recipes in total, which are tasty and are good for your body and soul. They include breakfast, lunches, dinners, and snacks including appetizers, tea menu, and desserts.
Also, the added tips and tricks will make your life in the kitchen a whole lot easy and quick.
9. The Complete Instant Pot Cookbook for Beginners: 550 Quick and Delicious Instant Pot Recipes for Smart People on a Budget (Pressure Cooker Recipes) Paperback – May 27, 2019
The complete instant pot cookbook has over 500 recipes that are quick and time-efficient. This cookbook for every single soul out there who is looking to save time and effort in the kitchen and just give themselves a break. The author Michelle Jones has specially crafted this cookbook for beginners who are just starting to cook for themselves and their families. This cookbook will be your best friend if you belong in any one of these categories.
The cookbook is divided into sections including:
My Favorite Morning RecipesEnergizing Soups and Side Dishes
Great Vegan and Vegetarian instant pot recipes
Great variety of Pasta, Beans, and Grains
Fascinating Desserts & Drinks
Lots of protein recipes – Poultry, Meat, Fish & Seafood
Crave able Appetizers & Snacks
The recipe book has everything that you need to know to make your transition from an amateur to a home chef. This book is a good investment.
10. Miss Vickie's Big Book of Pressure Cooker Recipes Paperback – January 29, 2008
Vicky is not a new name in the culinary industry, Smith is the creator of MissVivkie.com which is a major pressure-cooker website. Now, she has decided to go old school and add all of her pressure-cooker wisdom in a cookbook that is available for all of us.
This pressure cooker based cookbook is of great help to all of us as it has all the possible hacks and tricks that will make your instant pot cooked meal of restaurant quality.
The book is jam-packed with 400 fast, efficient and tasty recipes that are sure to bring foolproof dishes to your dinner table. Wow, your guests or your family with this amazing cookbook. Including recipes from breakfast, lunch, snacks, and dinner. The book includes a buyer's guide, safety tips, common mistakes while cooking and storing, how to adapt to the pressure cooker and troubleshooting guide.
11. The Keto Instant Pot Cookbook: Ketogenic Diet Pressure Cooker Recipes Made Easy and Fast Paperback – March 20, 2018
Urvashi Pitre is the woman behind The Keto Instant Pot Cookbook. She explains it very nicely that Keto is not as challenging and daunting as it might seem. She says she is one of a mission to make a Keto diet accessible to many and to make it time-efficient. She is also the lady behind Two Sleevers and The Indian Instant Pot® Cookbook, therefore, I am sure that she does not need any introduction.
This cookbook incorporates diet food in the everyday meals and makes them low carb so that you don't have to go out all the way to find low carb meals for yourself. All these recipes are extremely easy and quick. You don't need to spend hours and hours in the kitchen whipping up the perfect food.
This cookbook includes a detailed intro to the Keto diet, which outlines the basic guidelines for the diet and how to get your macros right. Then it includes 65 recipes with ingredients and step by step guide to cook them perfectly. All the recipes have the macros count with it.
12. The Instant Pot Bible: More than 350 Recipes and Strategies: The Only Book You Need for Every Model of Instant Pot Paperback – October 2, 2018
Mark Scarbrough says that over 5 million people use instant pots but the only good it brings is that it puts food on the table faster. But with his new Instant Pot Bible, they all can make use of their instant pot to its full potential. All 350 plus recipes have their ingredients and timings included in the recipe and also have recommendations for the type of cookware that should be used to cook the food in.
The cookbook is a comprehensive guide for the cookbooks and has everything from healthy breakfasts to delicious desserts. This cookbook serves as a road map to your guide to throwing a party with your pot. You can make innovative recipes such as soups, chilies, pasta and casseroles and wow your guests.
13. The Fresh and Healthy Instant Pot Cookbook: 75 Easy Recipes for Light Meals to Make in Your Electric Pressure Cooker Kindle Edition
Eating healthy might seem like a chore at times, thinking of recipes and then finding the perfect ingredients and time to make them may seem like a daunting task in itself. Therefore, while cooking with fresh produce and making healthy food, one can use the help it can get.
This is exactly where this cookbook comes in. This book is by a famous food blogger Megan Gilmore and she has included 75 unique and easy recipes with photos to make your life a whole lot easy. This cookbook has something for everyone in it. It includes vegan substitutes and has been tested out using organic and vegan ingredients as well.
All in all this cookbook is extremely wholesome and resourceful. All home cooks and amateur chefs can learn a great deal from it.
14. The Fresh and Healthy Instant Pot Cookbook: 75 Easy Recipes for Light Meals to Make in Your Electric Pressure Cooker Paperback – October 9, 2018
With the fresh and healthy instant pot cookbook, cooking gets a whole lot easy with a collection of 75 recipes, with a picture and nutritional values. All these recipes are compatible to be made in an instant pot and are reviewed by a nutritionist who has checked them for ultimate nutrition and health. These recipes are optimally flavored as well in addition to being healthy.
Megan Gilmore has combined 75 recipes that are easy to make and have used easily to find ingredients that are wholesome and enjoyable for the entire family. All these meals will make your dinner time better and nutritional.
The recipes are accompanied by high-quality visuals and useful tips and nutritional information so that you can dive into a recipe while being fully aware of what it has to offer.
15. The Ultimate Instant Pot Cookbook: 200 Deliciously Simple Recipes for Your Electric Pressure Cooker Hardcover – October 30, 2018
Coco Morante is the brains behind the ultimate instant pot cookbook, which features 200 recipes. The book comes in a hardcover variety and has fully authorized delicious recipes that anyone can make.
This cookbook is for those who value their instant pot and wants to make full use out of it. This book can be your savior and can help you find ultimate recipes that will make your everyday cooking decisions very easy.
This cookbook covers everything from creamy and healthy soups to chicken tikka masala to loaded French toasts and triple chocolate cheesecakes. There is nothing in the world that you can't find recipes for in this book. From breakfast to desserts this book has you covered. Use your cookbook and become the ultimate instant pot chef.
16. Healthy Meal Prep Instant Pot® Cookbook: No-Fuss Recipes for Nutritious, Ready-to-Go Meals Paperback – June 18, 2019
With a healthy meal prep instant pot cookbook, you can now prepare your healthy meals on the go. This cookbook assists you in preparing healthy, delicious and ready to go meals with ease. This cookbook ensures that all the handy dandy tips and tricks are compiled in one spot so that you can just skim through those whenever the need arises.
It doesn't matter if you are a home cook or if you don't know anything about cooking at this, this cookbook has you covered in all aspects. Other than recipes, this book comes with storage tips and meal prep ideas that make your weekly menus that much easier.
The healthy meal prep includes pro tips and tricks to us your instant pot pro and recipes made especially for this kind. They also come with master tips to make meal prep easy and help you prepare, plan and store meals for emergencies.
This cookbook features 75 recipes that cover all aspects of meals that are healthy and easy to make.
17. The Ultimate Instant Pot® Cookbook for Two: Perfectly Portioned Recipes for 3-Quart and 6-Quart Models Paperback – February 26, 2019
Cookbook for two is the perfect guide for the perfect little family. You no longer need to worry about storing the leftovers and dealing with them later on. These recipes are perfectly proportioned for your perfect little family. This recipe is a magic book that will make your mealtime even better in quality and would give out a wholesome homemade meal.
From basics like Artichoke dips to spinach risotto, every recipe will look like one two three. Meals such as Chicken teriyaki will turn out so rich and delicious that you both will be reaching out for out and will leave no leftovers that go to waste. Another plus point is that these recipes take hardly ten to twenty minutes to get ready, therefore, it leaves you a whole lot of time to relax and spend with your family.
The cookbook comes with a handy overview and almost 80+ recipes that are all compatible with an instant pot. Each recipe also has fun tips to make cooking even better.
18. The Filipino Instant Pot Cookbook: Classic and Modern Filipino Recipes for Your Electric Pressure Cooker Paperback – October 29, 2019
The Filipino Instant Pot Cookbook features an array of Classic and Modern Filipino recipes such as Sinigang na Baboy (pork tamarind soup) to sweet treats like Putong Puti (steamed rice cake). Filipino foods are usually braised or boiled and steamed among other heat-intensive treatments and this is exactly what an instant pot is best at.
The Filipino cookbook combines the power of six home chefs who have put together their brains to put together this comprehensive guide to use a pressure cooker to its full potential to cook Filipino recipes. There are over 75 diverse recipes that are wholesome and are crafted to cater to an entire family.
The cookbook is a must-have in our humble opinion, as it will provide what you are looking for. These 75 recipes will provide you with an opportunity to have a relaxed dinner and spend quality time with your family with wholesome homemade food!
19. Mediterranean Instant Pot: Easy, Inspired Meals for Eating Well Hardcover – December 31, 2019
America's test kitchen has come up with the perfect cookbook for all instant pot users. They have bought together with the number one diet combined with them to make an authorized cookbook that makes Mediterranean cooking as easy as A B C. Mediterranean cooking brings together grains, vegetables, and seafood to put together the most perfect and healthy recipes that will bring authentic Turkish and North African flavors in your everyday meals.
All recipes from this cookbook are very easy to make and can fit in your fast-paced life like a charm, this comfort food will bring the ultimate comfort in your life and you will be very happy with it. Embrace the Mediterranean side of the food and plan your days around the delicious recipes included in the book. The result will be vibrant and your tummy and soul will be full.
20. Miss Vickie's Real Food Real Fast Pressure Cooker Cookbook Paperback – April 23, 2013
Miss Vickie's new cookbook features super-easy, super-tasty recipes from the queen herself. It is no secret that Miss Vickie sits on the throne of pressure cooker recipes and with pressure cookers on the rise today, there is no denying the fact we all need cookbooks.
Miss Vickie has over 215 delicious recipes in her cookbook that are easy to make and stay under budget, they all are accompanied by illustrated pictures. It doesn't matter whether you are a professional or even a new chef. This cookbook will cater to all.
Choosing the Best Pressure Cooker Cookbooks
While buying a cookbook, it is very important to keep in mind that versatility is important. Cooking under the pressure of always making the same thing will ruin both your appetite and your mood. Therefore, try out these books if you are looking to put something different on the table each day.
There are lots of other cookbooks on the market as well, therefore, you should use trial and error and find what works best for you and your loved ones. No point in making rubbery chicken and overcooked meals for dinner. Get a cookbook that caters to you and your family!