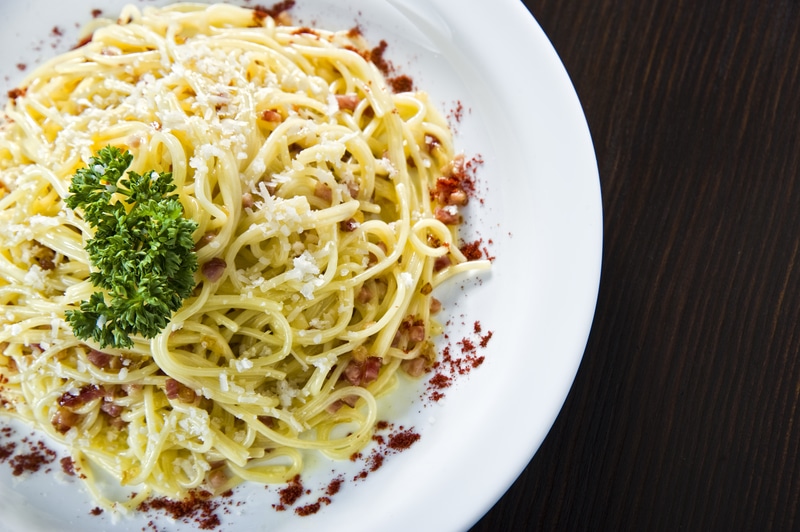 The alfredo pasta is one of the most delicious pasta varieties. It's a perfect choice for people who like creamy and light-flavored pasta because the sauce is made from parmesan cheese, salt, butter, and cheese. The pasta has a rich and creamy flavor, which makes it a hearty meal. So, if you want to make alfredo pasta and don't know which pasta shape is the right choice, we are sharing some options with you!
Best Pasta For Alfredo Sauce
Bucatini
Commonly known as perciatelli, Bucatini is a long, thick, and tubular pasta, which can absorb the thick alfredo sauce and delivers a delicious mouthful. It's native to Lazio but can be found in grocery stores all around the world. The pasta is made from durum wheat flour and water – the dough is cut into ten inches to twelve inches long strops.
It can be served with buttery sauces, such as alfredo and white sauce. However, it's only served with guanciale traditionally. Since this is a thick variety, the standard cooking time is around fifteen minutes. In addition, there are tubular holes in the pasta, which help hold the sauce, so you can fully enjoy the pasta.
Fettuccine
This is one of the most used varieties of pasta that's used with alfredo sauce. It has a thick and wide shape that allows it to absorb the maximum amount of sauce (it promises a delicious mouthful). In particular, fettuccine will be coated in the thick and creamy sauce, which is actually a great way of preventing clumping. The fettuccine pasta is readily available the local grocery stores and supermarkets. It's available in the form of rolled balls and opens up during boiling. In addition, you can use two rolls for one serving.
Taglierini
This is a ribbon-shaped pasta and tends to be long like spaghetti. It is native to Piedmont and Molise. It is usually served with seafood and light sauces but it works well with alfredo sauce as well. In fact, it's easy and quick to prepare as it can be fully boiled within nine to ten minutes. Overall, it has a thick consistency, which complements the alfredo sauce.
Spaghetti
This is a long, thin, and cylindrical pasta that was first made in Italy. It's one of the most popular varieties of pasta and is available around the globe. It wouldn't be wrong to say that it's a staple in Italian cuisine and is made from flour and water or semolina flour. In most cases, spaghetti is mixed with tomato sauce but it goes well with alfredo sauce as well. It's readily available in supermarkets and makes a perfect serving.
Pappardelle
This is a large and flat pasta that's available in form of long strips. It's native to Tuscany, Italy, but is available all around the globe. Depending on the band, the width of the strip ranges from ¾ inches to one inch. It's made from eggs and flour and is considered a form of ribbon pasta. For this reason, it has a rough texture, which makes it suitable to be mixed with alfredo sauce (it can absorb the sauce pretty well). In addition to alfredo sauce, you can also use it with other heavy and thick sauces. The best thing about this pasta shape is that it looks like fettuccine.
Linguine
This is another member of the ribbon pasta family as it has a thick, narrow, and long shape. It's around four millimeters wide and is prepared from eggs and flour. It's native to Italy and can be used for alfredo sauce, tomato sauce, and fish-based sauces. The best thing about linguine is that its texture is similar to fettuccine, so it can absorb the sauce.
Tagliatelle
This is a long and ribbon-shaped pasta, which is pretty similar to fettuccine. It's a common part of Italian cuisine and makes a great addition to alfredo sauce. The pasta is native to Emilia-Romagna and Marche. In addition to alfredo sauce, it can be used with meat sauces as well. The best thing about this pasta is that it's made with eggs and flour, resulting in a thick and rich texture – this texture allows it to be used with chunky and thick sauces.