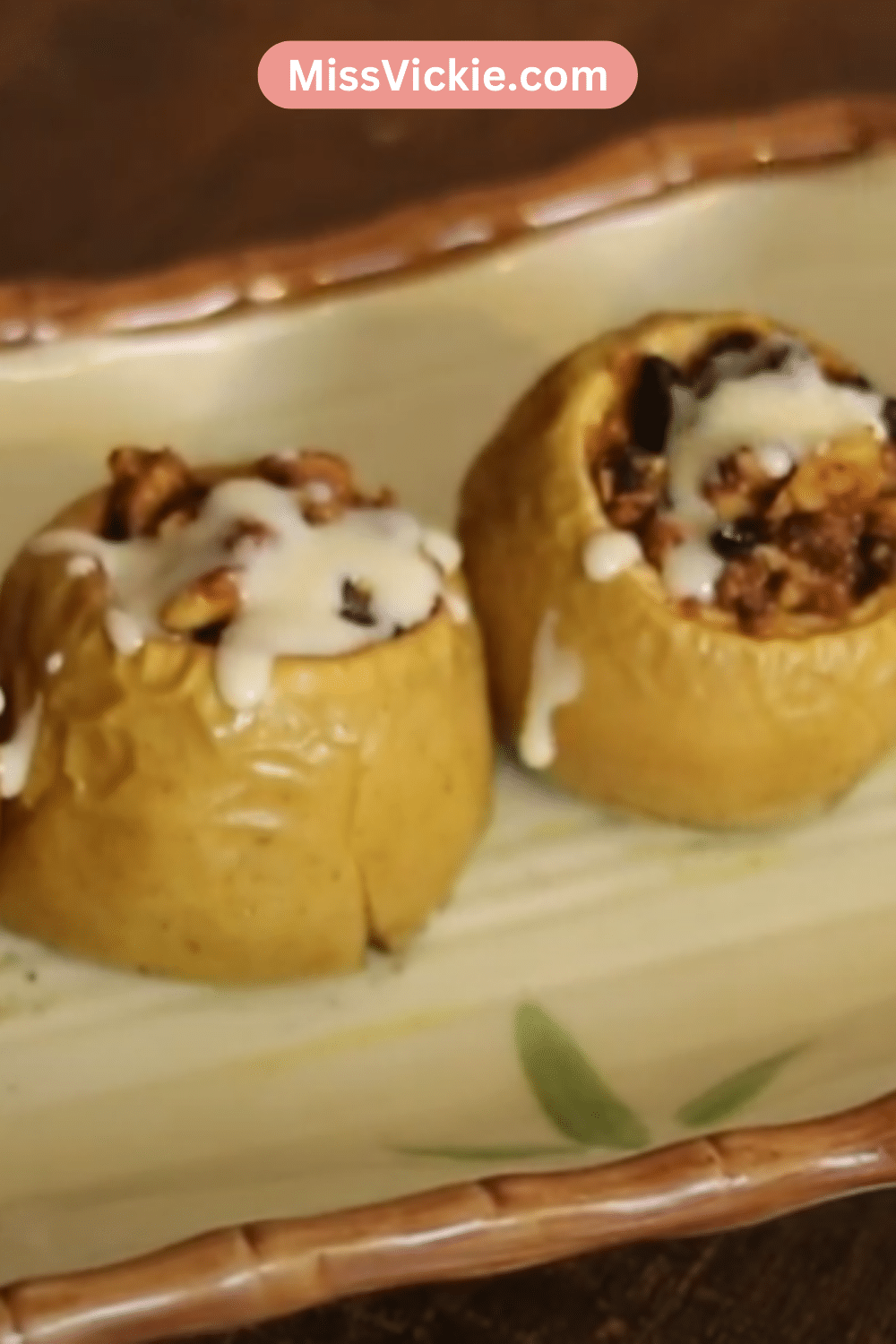 If you've got a lot of apples lying around and don't want them to go to waste, or if you just want something sweet, delicious, and comforting to munch on, today's recipe is perfect for you. I've had baked apples so often growing up, and they're still a nice treat to make every now and then. Today, I want to share that treat with you by teaching you how to make some for yourself at home!
It's something I especially recommend baking when apple season is at its peak around summer and fall. Regardless, the recipe tastes delicious all year long if you know how to make it, and that's what I'm here to help with. So, let's start cooking… right after I discuss another important thing about the recipe.
What Type of Apple Should You Use?
The type of apple you use plays an important part in how good the recipe is going to turn out. If you use a type of apple not firm enough to hold out under the pressure of the oven, all your hard work might go to waste. So, make sure you pick right. Here are some of the apples I recommend for this recipe of mine:
Honeycrisp: A really common, simple, yet utterly delicious apple that you can never go wrong with when it comes to baking is the honeycrisp. It's usually my go-to for this recipe because of those reasons, and you should consider it too.
Golden Delicious: The name pretty much speaks for itself; golden delicious apples are, well… delicious! They have a nice taste, a beautiful look, and are great when it comes to keeping shape while baking. In short, another good choice for this recipe.
Rome: A hypnotizingly red apple, romes are a great choice for baking because of their taste and sweetness. They keep their shape more than well enough, and their shiny red coating adds to the presentation of any baked apple.
There are plenty of good options, and all with different tastes yet similar reasons for why they're good candidates to go in your oven. So, I won't keep you waiting much longer, and I'll just list the rest of the apples without going into detail about what makes them so good, since you probably get the idea by now.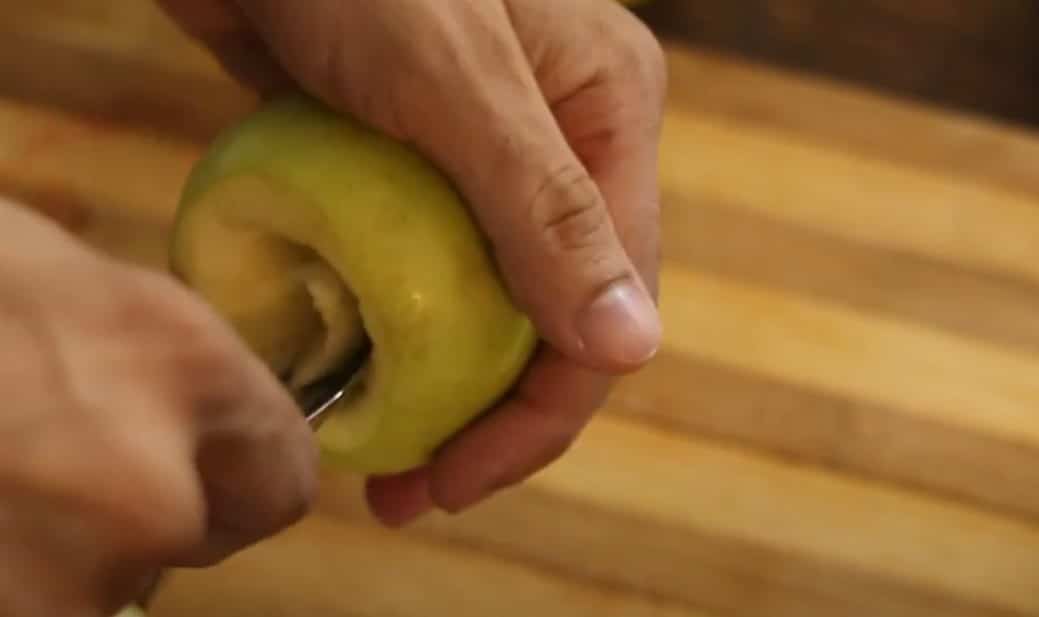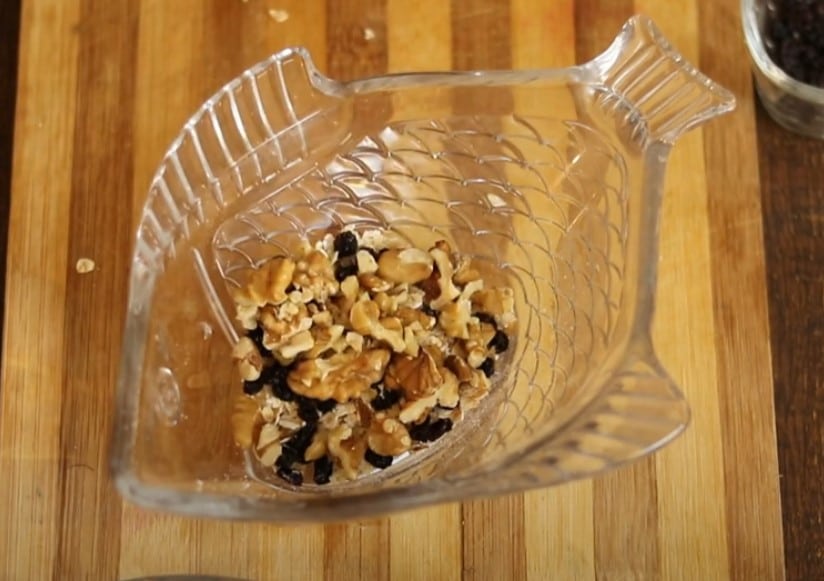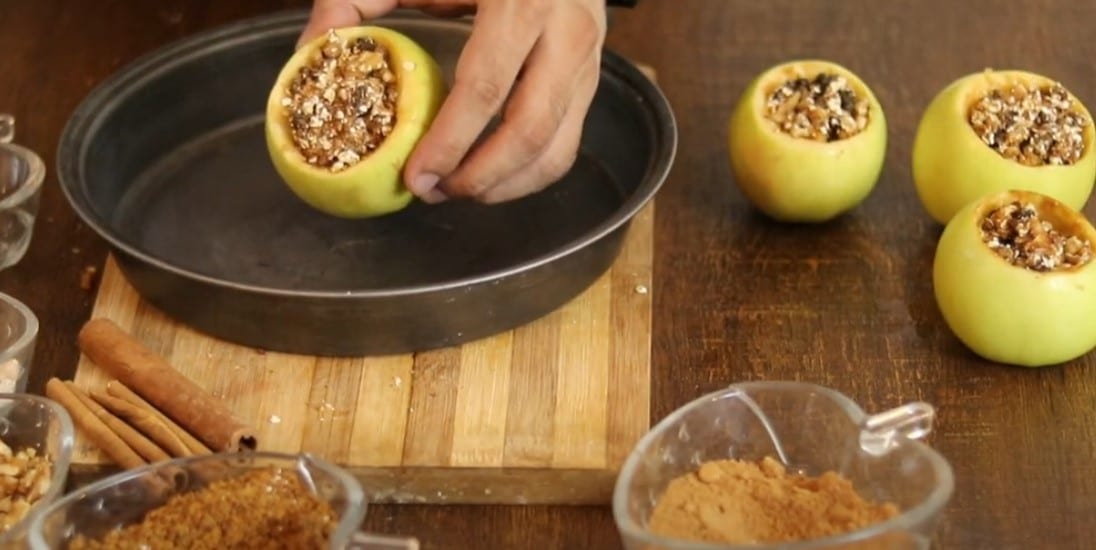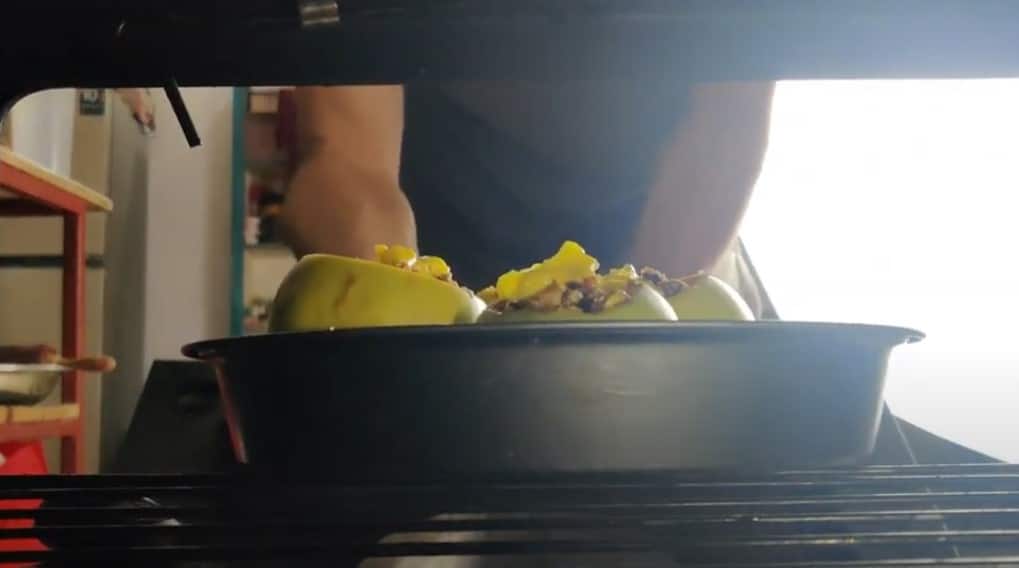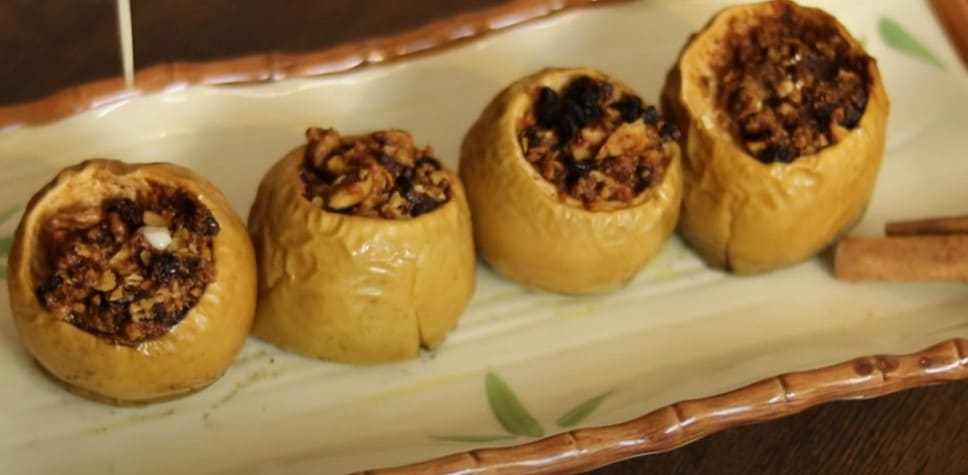 Print
Best Baked Apple Recipe
Baked apples are a great way to enjoy when you are in the mood of having a delicious snack. Here, you will find the best recipe for baked apple on the internet!
Author:
Prep Time:

5 minutes

Cook Time:

10 minutes

Total Time:

15 minutes

Yield:

2

1

x
Category:

Snack

Method:

Chop, Fill, and Bake

Cuisine:

American
Here is what you will need:
4

Apples

3 Tablespoons

of Oats

1 Tablespoon

of Raisins

2 Tablespoons

of Walnuts

2 Tablespoons

of Brown Sugar

1/2 Tablespoon

of Cinnamon

1/2 Tablespoon

of Honey

2 Cups

of Water

2 Tablespoons

of Butter

5 Cups

of Powdered (Icing) Sugar

1/2 Teaspoon

of Vanilla Extract

3

–

5

Tablespoons of Milk or Heavy Cream
With all this by your side, you're ready to cook some delicious baked apples!
Instructions
The recipe isn't a long one, so don't worry. There's not much of a wait until you can enjoy some real good desert! Just start by…
Cutting The Apples: Get 4 apples (of your choice, preferably from the list I discussed earlier) and dig out just their cores. Make sure that you don't cut any other part off, and that the core from top to bottom is the only thing removed so that the apple keeps its natural shape.

Create Filling: You're going to need to combine a bunch of different ingredients in this next step to create the filling for the apples. These include 3 tablespoons of oats, 1 tablespoon of raisins, 2 tablespoons of walnuts, 2 tablespoons of brown sugar, ½ tablespoon of cinnamon, and ½ tablespoon of honey, all of which you need to stuff inside a large bowl and mix together as well as you can.

Fill Apples with Mixture: You made the filling to fill the apples with it… so do that next, obviously. There's nothing more to this step than that. Just get a spoon and start filling up each of the 4 apples bit by bit with the mixture you made in the last step and put them away.

Pour Water Around The Apples: Just do pretty much as the heading says. First, get the apples you filled up and place them all on a deep baking dish you can stuff in the oven. Then, get 2 cups of water to pour all around the apples.

Butter 'Em Up!: Get 2 tablespoons of butter and cut each tablespoon into two pieces, so that you have half a tablespoon for each of the 4 apples. Once you have the pieces ready, just place them on top of each apple.

Start Baking: Set the oven to 350 degrees Fahrenheit and let the apples sit inside for 10 minutes, or however long it takes for the filling to become crisp and the apples to start noticeably shriveling. Once you can tell that's happening, it's safe to turn the oven off and take the apples out.

Make Coating: You're almost done with the recipe, but there's still a couple of small things left to do. The first is making a coating that you can pour on top of the apples to give it extra sweetness and flavor. To make this coating, combine 1.5 cups of powdered (icing) sugar, ½ teaspoon of vanilla extract, and 3 tablespoons of milk of heavy cream together in a large bowl. Mix these ingredients together until they gel together, and keep adding additional tablespoons of milk while mixing if it comes out too thick, right until it's not so thick anymore.

Pour Over Apples and Serve!: Pour the coating you made in the last step all over your apples until they're adequately covered. Once that's done, you can finally serve the baked apples and enjoy a delicious little treat which gets better and better as you practice the recipe more, especially with different types of apples.
Notes
Making baked apples isn't as simple as stuffing them inside the oven and calling it a day. You'd be surprised to know you're going to need around a dozen ingredients to get this recipe right.
Nutrition
Serving Size:

2

Calories:

1270 Kcal

Sugar:

87.01 g

Sodium:

201 mg

Fat:

50.5 g

Saturated Fat:

24.604 g

Unsaturated Fat:

22.791 g

Trans Fat:

0 g

Carbohydrates:

216.47 g

Fiber:

39.9 g

Protein:

18.77 g

Cholesterol:

112 mg
Keywords: baked apple recipe