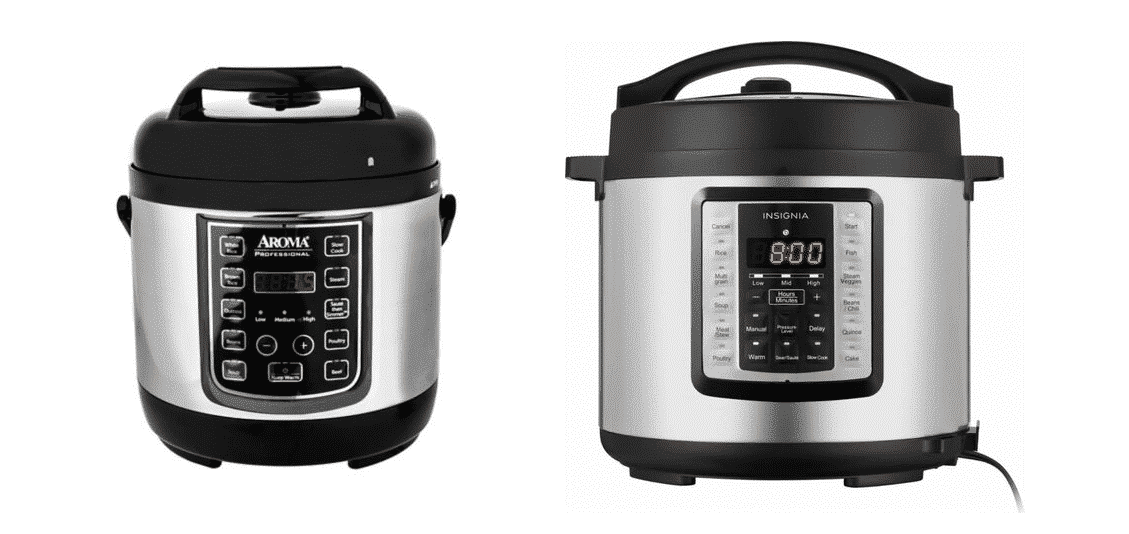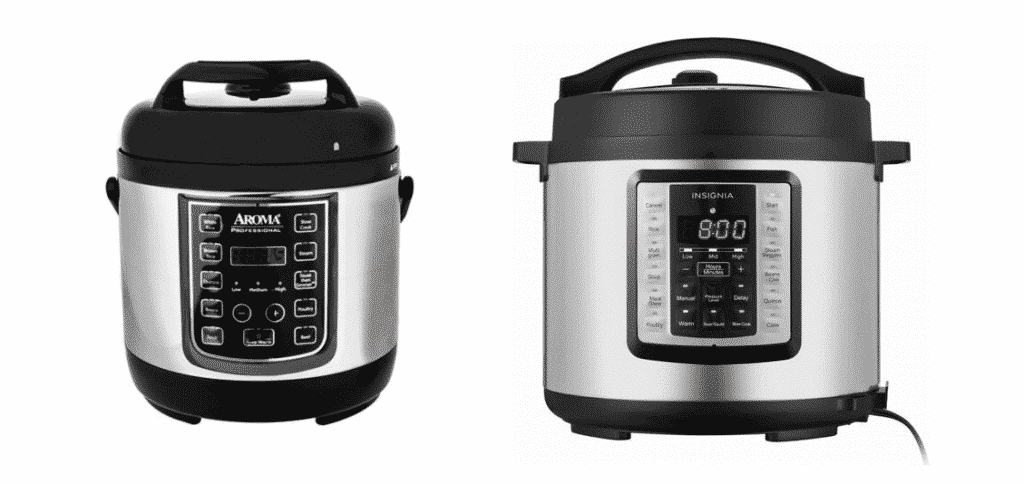 Aroma vs Insignia Pressure Cooker
Insignia Multi-Function Pressure Cooker – Stainless Steel
Insignia is a brand that offers different household gadgets including small fridge keyboards, Mouse, TV, and camera flash. But one of the most famous gadgets of Insignia is a pressure cooker. The insignia pressure cooker is made with the latest technology to satisfy all of your kitchen's necessary needs. They made their gadget so competitive that it can replace a lot of kitchen gadgets. It is an all in one gadget which can complete numerous tasks without the use of different other gadgets. There are different Insignia pressure cookers available with multiple features. With increasing features of a pressure cooker, the price range also increases.
They offer different sizes in their digital pressure cookers and have used the best material for their product. Along with that they also offer different styles and designs that can be most portable and handy for your kitchen use. The insignia pressure cooker is available in two sizes that are 6quart and 8quart capacity. Both of these pressure cooker sizes have amazing features. This pressure cooker is a multitasker and can perform different tasks like steaming, baking, air frying, and pressure cooking. This pressure cooker is dishwasher safe and can be easily washed with the help of a dishwasher. It is also very easy to clean because it has a nonstick surface inside the pot which allows food to be cleaned with one wash.
This pressure cooker by insignia comes with 12 preset cooking programs which can make your cooking easier and more feasible. Along with that it also has a delay timer feature which can delay cooking time until you want it. You can also maintain your food's temperature with the help of a keep-warm setting. It also has a locking lid which keeps it closed properly while you are pressure cooking. This product comes with an included multifunction pressure cooker either of 6 quarts or 8 Quarts. It has an inner pot along with a measuring cup and a steam rack. This pressure cooker is completely made with Stainless Steel material which makes it very durable and sturdy for long term use.
Aroma Digital Pressure Cooker – Multi-cooker
The Aroma is a brand for pressure cookers and kitchen appliances with multiple advanced features allowing you to cook faster and efficiently. This brand has multiple products like multi-cookers, electric kettles, blenders, and other kitchen appliances including electric knives as well. Currently, this brand is offering two different types of pressure cookers. One of them is a 5-quart digital pressure cooker and multi cooker known as Aroma professional. The Other product is a 5-liter pressure cooker which is made of stainless steel. They also offered another product which is now discontinued. It was a three-quart digital pressure cooker known as Aroma professional as well.
Digital pressure cooker by Aroma of 6 Quart which is 20 cups is designed to function with multiple features like simmer and fish cooking under pressure. It comes with preset programs to allow fast and simple pressure cooking. It has one-touch buttons for a quick command. This pressure cooker allows you to cook a large quantity of food for the whole family and parties. It has a six-quart inner pot capacity. The inner Pot is also made with non-stick material which allows easy cleaning and better cooking. This product comes included with a rice measuring cup and rice spatula to assist you while cooking rice. It also has a bamboo spatula and a soup ladle along with the steam rack for steaming easily.
This pressure cooker comes with multiple functions including beans cooking and stew cooking. Moreover, you can also steam your meat and vegetables inside this pressure cooker. You can make very delicious soup and also slow cook with the help of this pressure cooker. The best part about using this pressure cooker is that you can tenderize your meat in no time at all. It has a keep-warm feature that allows you to keep your food warm. Moreover, it also has a delay timer option which allows you to delay the cooking time until you are ready for it. Not only this but it can also allow you to cook or bake a delicious cake inside this gadget. It has a capacity of 20 cups where you can say 6 quartz.
Both of these products are amazing for use in your kitchen. After comparing it's totally up to you which feature you want to go for. Both brands are offering multi-functioning products allowing different preset programs with different cooking capacities.