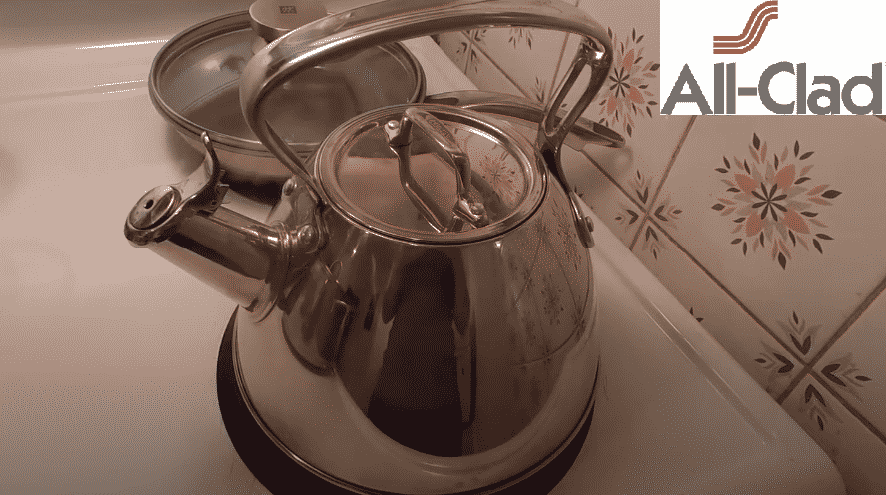 All-Clad is a brand that offers different types of tea kettles with a variety of price ranges and different qualities. These tea kettles are a go-to tea kettle for every tea lover. They come up with very versatile models that are engineered perfectly to make you a strong cup of tea. Their tea kettles are widely used and have become very popular because of their unique designs. With an increased rate of customers, there comes an increased rate of queries as well. This also made us search for the all-clad tea kettle reviews in order to help you decide which one to go for.
All-Clad Tea Kettle Reviews
All-Clad Tea Kettle Design:
The All-Clad tea kettle is significant by functionality and it is designed by keeping its appearance in mind that makes it an eye-catching kettle which attracts people towards itself. These tea kettles have a classical and attractive design along with a beautiful stainless steel finish which can complement your kitchen as well.
All-Clad tea kettle comes in a design that allows fast and easy cleanup techniques. The design is perfect for cleaning as you do not have to use different kinds of brushes to clean these kettles. Most of the All-Clad tea kettles are designed in a way that they have a flat bottom and a lid that fits tightly. This tight-fitting of the lid and the flat bottom both increase the boiling speed.
The consumer reviews about the lid clearly show that the lid is very helpful as it lets out a whistle when the water inside the tea kettle gets boiled. Also, the lid flips open and makes pouring easy and fast.
All-Clad Tea Kettle Handle:
The handle of the All-Clad tea kettles is easy to hold. The consumer's reviews show that All-Clad tea kettles are easy and comfortable to handle. However, it does not have a built-in stay tool technology which means that there are chances of burns when removing the kettle from above the stove.
The All-Clad tea kettles have a wide handle but it does not help in pouring the tea as it gets hot after putting on the stovetop. This indicates that there is a need for an extra potholder to provide a better grip and safety from the burns.
All-Clad Tea Kettle Warranty:
All-Clad tea kettles come with a lifetime warranty which gives surety to the buyers that they are investing in a safe place. They have very good customer service which allows you to exchange your tea kettle if you're facing any problem. The warranty also includes the repairing of your tea kettle in case of any issue in the kettle.
All-Clad Tea Kettle Care And Maintenance:
All-Clad tea kettles are very easy to clean and maintain. As they are made up of stainless steel, that is why it also ensures long-term safety from rusting, discoloration, and long-lasting durability as well. However, it is found that cleaning the kettle immediately after using it protects the kettle from corrosion and rusting.
All-Clad Tea Kettle Capacity:
All-Clad tea kettles come with less capacity, and they do not hold that much capacity. As a result, you may face problems making tea for a large family. But All-Clad has come up with competing models that have better capacity and has many other advantages as well. The capacity of the All-Clad tea kettles only depends upon the model and the size that you can select according to your family size.
All-Clad Tea Kettle Rating:
The All-Clad tea kettles have an overall rating of 9.2 out of 10 or 4.6 ratings out of 5. These tea kettles make preparing tea fun and easy. All-Clad tea kettles are a little expensive, however, they are worth all the price. In case you are looking for a less expensive kettle then All-Clad also offers different models that are comparatively cheaper.
The rating drops down a bit because of the low capacity in most of the models. All-Clad tea kettles are perfect for making morning tea for the family but it is not so good due to its low capacity and does not have enough capacity for hosting large get-togethers.
The All-Clad tea kettle comes with a polished stainless steel finish and because of their wide base design, they work best on wide stovetops. If you're a tea lover, you'll fall in love with how an All-clad tea kettle works and how fast and efficient it is. The All-Clad tea kettle is one of the leading brands of tea kettles because of its simple design and its stick-resistant surface.
Conclusion:
All-Clad tea kettles are highly durable, low maintenance tea kettles with highly efficient results. Hopefully, this review blog helped you in finding more about All-Clad tea reviews.