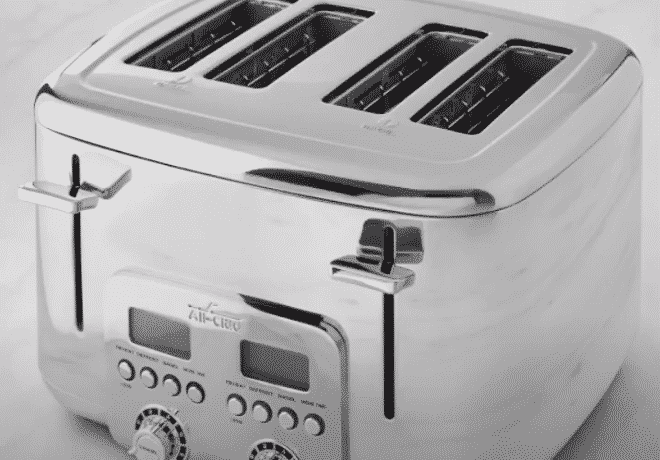 All-clad is a brand that offers different types of slice toasters with a variety of designs and collection ranges along with different prices. These slice toasters are go-to slice toasters for your fast and healthy breakfast routine. All-clad comes up with extremely adaptable models that are engineered flawlessly to make you a healthy breakfast in no time at all.
Their slice toasters are used widely and they have become extremely famous because of their high capacity. But along with an increased rate of customer queries also increased as well. For that, we have searched for the All-clad slice toasters reviews so that it gets easy for you to purchase it.
We have picked up a few aspects and features of All-clad 4 slice toasters to elaborate on those particular features and let you know how All-clad 4 slice toasters are suitable for you.
All-Clad 4-Slice Toaster Review:
Design:
All-clad not only focuses on the functions of their product but also its design. The All-clad 4 slice toaster is renowned for its out of the ordinary design that is fascinating to the buyers. The toaster has a classy finish of die-cast and brushed stainless steel to its design that will make any kitchen counter look elegant and high-class.
The all clad 4 slice toaster contains special moisture-sensor technology that guarantees consistent results each time. It also offers two independent control panels through which you can toast two different orders at one time. This design increases its versatility as you can cook for two persons at a time. Moreover, its 4 Slice capacity is great for cooking in a hurry for breakfast.
Functions:
It has numerous functions that make toasting easy and fast so that you never miss your breakfast. The all-clad 4 slice toaster mainly has three functions that include a bagel function for toasting the cut sides and mildly warm the outer sides of bagels, a frozen function for toasting the frozen items to perfection, and a cancel function for ending the toasting cycle at any point.
Other than these three main functions the toaster has a browning-control knob too which provides six settings from light to brown just so you can enjoy the toast as per your choice.
Toasting Slots:
The All-clad 4 slice toaster has wide slots that help you to toast a larger piece of bread.
The length of the individual slots is 5 ¾" and it is 1 ¾" in width. The height of the toaster slot is around 5 to 6 inches. It also consists of an extra Lift lever which makes it easy to take out the smaller items.
Care And Maintenance:
The toaster does not require any high maintenance and is very easy to clean as it is made up of high-quality products. It also has a crumb tray which is dishwasher safe and does not affect its quality but you've to make sure that you don't use the toaster without this tray.
The toaster is also resistant to fingerprints and smudges. It is safe from rusting and discoloration too as it is made up of stainless steel.
Warranty:
All-clad 4 slice toasters provide a warranty of 2 years so that you can replace it within 2 years if there is an issue or you can get the toaster to repair within this time. If there is an issue to the toaster after 2 years of usage in that case it is out of warranty.
Capacity:
It comes with a very sufficient capacity as it can toast large and wide slices of bread which allows you to freely decide whatever bread size you want to cook and you wouldn't have to hesitate next time you purchase bread to think it would fit in my All-clad 4 slice toaster or not.
Conclusion:
All-clad being one of the most famous brands for kitchen appliances and gadgets makes it quite obvious that this product is worth the trust and money. However, you can not decide on this basis only, so the review above makes it easy for you to decide according to capacity and design.